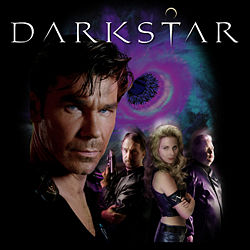 DarkStar is a first-person role-playing video game that's been in development for over 7 years. It's usually described as more of an interactive movie than a video game because the characters in the game are live actors. The game is of interest to Rush fans because it will feature the music of Rush; over 20 songs spanning 12 albums. Back in July of 2004 they released a teaser trailer online that featured One Little Victory. It's also interesting to note that a number of people who worked on the Mystery Science Theater 3000 TV show - which included many Rush references - are involved with this project. Unfortunately, development of DarkStar has been very slow going although there have recently (November 5th, 20th) been a couple of promising updates posted on the game's official website; the game may actually see the light of day sometime next year. In the meantime here's what the website says about using the music of Rush along with the complete song list:
We're still not sure why these legendary fellows said yes. Not because Darkstar isn't a perfect match for their music, but after we made merciless fun of them on a cable show some of us worked on (Comedy Central/Sci-Fi Channel's Mystery Science Theater 3000), we thought they might be steamed at us. Much to the delight of the MST-3K folks, they instead said yes. We found out later that they even credited the show in the credits of their "Counterparts" album, and Alex was said to have even displayed an MST lunchbox atop his amp that tour. Even after making jokes about them while Joel, Trace, Josh and others riffed cheezy movies (once pointing at an ematiated woman and saying "hey, it's Geddy Lee"), and even going so far as to mock their entire home country in Tom Servo's song about Canada. But it was all in fun, and we never stooped lower than that or really got "personal"...for example, telling everybody that Neil's middle name is Ellwood. Ooooops.

For over 30 years, these Canadian Rock Legends have continued to produce cutting-edge progressive music, and have toured nearly non-stop, culminating in a spectacular live in Rio concert and an incredible DVD of that concert. There are at least 20 songs from the RUSH repertoire in Darkstar, spanning music from their earliest albums from the 70's to some of their newest on Vapor Trails. Talks are ongoing with ANTHEM Records, Inc. in Toronto about cross marketing opportunities, including possibly utilizing some of Darkstar's scenes in the band's live visual presentation in concert.

Song List
FLY BY NIGHT - Anthem
CARESS OF STEEL - Bastille Day
2112 - The Twilight Zone
A FAREWELL TO KINGS - Cygnus X-1
HEMISPHERES - Cygnus X-1 Book II
MOVING PICTURES- Tom Sawyer- YYZ- The Camera Eye- Witch Hunt- Vital Signs
SIGNALS - Subdivisions
GRACE UNDER PRESSURE- Red Sector A- The Enemy Within- Red Lenses
POWER WINDOWS- Mystic Rhythms- Manhattan Project
HOLD YOUR FIRE- Time Stand Still
TEST FOR ECHO- Test For Echo- Time and Motion- Limbo
VAPOR TRAILS- One Little Victory- Nocturne
Thanks to dbguy for giving me the heads up that the game's website had been updated.