UPDATE - 11/24@10:17AM: Oops! brindle just reminded me that I'd forgotten MalNar and Hope in the poll on instrumentals! Very sorry about that - too much Thanksgiving turkey. I added them in - if anyone wants to change their vote, send me an email.
I hope everybody in the States had a great Thanksgiving yesterday. As Rush fans, we all had a lot to be thankful for this past year ... and it looks like 2008 won't be any different.
As the members of Rush take a break from the grind of touring for a few months, behind the scenes planning for the 2008 tour leg is underway. We learned this week that dates in Argentina, Chile and Puerto Rico are being finalized and I heard a recent rumor (take with a grain of salt) that the Honda Center in Anaheim may be one of the west coast dates.
Earlier this week saw the release of the much-anticipated sequel to the Guitar Hero 2 video game - Rock Band - which includes a cover of Tom Sawyer as one of the featured tracks. We also learned that Mobile Fidelity Labs is planning on re-releasing (perhaps re-remastering?) their versions of 2112, Moving Pictures and Signals. And unfortunately the MoFi release of Permanent Waves has been delayed yet again; it's now slated for a January 8th release (thanks Chad for the heads up).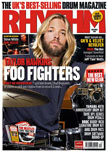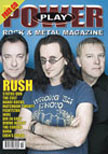 There's a feature on Alex Lifeson in the December issue of Guitarist magazine and a Rush interview in the December Classic Rock. In addition, Power Windows pointed out a couple of magazine Rush features from October that I had missed. The October issue (#92) of the UK's Powerplay Magazine features Rush on the cover and an interview with Alex Lifeson. The October issue of the UK's Rhythm Magazine includes a small photo of Neil Peart in the top left corner along with an interview. Rhythm is also offering a free copy of Anatomy of a Drum Solo with the purchase of a subscription.
The 2007 Grammy Award nominees will be announced in less than 2 weeks (8:30AM on December 6th). Although I doubt Rush will win anything it's possible they'll get a nomination in one of the Rock categories; most likely for Rock Instrumental as they have in years past. Of all of Rush's instrumental songs over the years, what's your favorite? Take the poll and let us know. Thanks to naturalscientist for the poll idea.
Last week's poll where I asked you if you thought Neil Peart was the greatest rock drummer was kind of a no-brainer. Over 80% of you - rightly so in my opinion - agreed with that statement. Another 15% put him in the top 3, and the rest at least had him in the top 10 ... except for the one lone Neil Sucks vote. :)
In addition to the Rush playing cards - as expected - the Rush Backstage Club is now offering a 1000-piece Moving Pictures puzzle. They're also running a promo where they're giving away a free Snakes & Arrows flash drive on orders of over $200.
The UK's Guardian recently ran a series where they counted down 1000 albums to hear before you die. Making the list for Rush was their 1976 classic 2112. Here's what they said about it:
Of course it's preposterous. What album featuring a 20-minute sci-fi "suite" somehow inspired by Ayn Rand couldn't be. But who could hate Rush? You can't make this sort of thing without knowing you'll be mocked for it. And there's real grandeur amid the pomposity. Think of it as a rock stately home.
Thanks to Joe O for the heads up.
NBC Nightly News did a story last Friday night on former hockey star Joe Juneau. In the story Joe is wearing a Rush hat in several clips and a Rush Snakes & Arrows shirt in one clip. You can watch the full story online here. Thanks to Chris in Cincinnati for the heads up.
As I'd mentioned last week, the new Coheed and Cambria album was recently released. The album was produced by Snakes & Arrows producer Nick Raskulinecz and Foo Fighters drummer Taylor Hawkins played drums on it. The CD comes with a making of video and when they introduce Taylor, there is clearly a copy of the debut Rush album shown in the foreground. Here's a screenshot. Thanks to YtseRob2112 for the heads up and the screenshot.
Reader Steve pointed me to this smackdown by Wall Street Journal music critic Jim Fusilli of Blender magazine and their ridiculous lists including their worst lyricist list - the one that said Neil Peart was the 2nd worst lyricist behind Sting. Give it a read; he really puts that rag in its place.
Cold Fire alerted me to this article in the Washington Post about Paul Green's School of Rock. One of the songs on the curriculum is Rush's Tom Sawyer:
At the Silver Spring School of Rock, a charmingly disheveled space across from the AFI Silver Theatre, a teenage drummer, guitarist, bassist, keyboardist and vocalist are playing on a makeshift stage under fluorescent black light, rocking a muscular version of "Tom Sawyer," the 1981 anthem by Canadian math-rock trio Rush.

The song, like many in the Rush catalogue, is among the harder songs a rock band can attempt. There is no three-chord simplicity here. "Tom Sawyer" showcases Neil Peart's uncanny polyrhythmic percussion.

Drummer Andrew Cohn, 17, is giving it his all on Peart's lightning-fast riffs but, halfway through the song, School of Rock music director Steve Kilgallon stops the music and addresses Cohn.

"Your one hand is, you know," he admonishes, without having to finish the sentence.

"Uh huh," nods Cohn, folding his sticks.

"You gotta go with the flow and give up on the sixteenths," Kilgallon says, referring to the quick-note drum fills, which Cohn is slurring.

"Right," Cohn says. ...
There's also a really cool video accompanying the article.
I typically don't pay much attention to air-guitar and/or air-drumming videos that folks send me these days. But this air-drumming performance of YYZ by Lance the Rush Fan impressed me enough to include it here. It's no doubt the best air-drumming to Rush I've ever seen. Check it out here. Lance is quite a character too... :)
Those guys at iLounge are at it again. They've included yet another Rush reference in one of their articles. It seems like there's a new one every week. Just check out this article on managing your iTunes , scroll down to the Moving Your Content: The Wrong Way section and check out the screenshots used. Thanks to rosmakloma for the heads up.
Reader NashVegas noticed something interesting while searching for road sign images for a project. He noticed this stock photo that Rush fans might recognize. :)
Have a great weekend everybody!