I woke up this morning with several news items to report. With news pouring in at this rate I'm finding that it works better just to lump things all into one post sometimes rather than several smaller posts ... which is what I've done here. Lots of neat stuff to report. By the way ... Happy St. Patrick's Day! :)
Recent Neil Peart pics up at mySpace




If you've read Neil Peart's recent book Roadshow then you no doubt are familiar with Michael; Neil's riding partner, head of Rush security and the infamous SPQR on the top of the list of Neil Peart's mySpace friends. He also seems to be the one responsible for Neil's increased online presence of late. He recently posted several pics of himself, Neil and other miscellaneous Rush-friends on his mySpace page here. For those who don't have a mySpace account, I've posted a few of the pics.
Snakes & Arrows released as DualDisc?
Reader Patrick R emailed yesterday and pointed me to this listing for Snakes & Arrows on CDUniverse.com. It's a listing for a (CD+DVD)CD version of the album - same cost as the regular version. This type of designation usually means it's an Enhanced CD or Dual Disc of some kind. This leads one to speculate that they may include the entire album in a higher-quality stereophonic and/or surround sound. Another possibility is the inclusion of some kind of making of DVD as referenced by Alex Lifeson in this interview. There's a lot connecting-of-the-dots going on here based on one listing at CDUniverse, but I thought it was worth a mention. That and the fact that Power Windows has also heard the same rumor.
Rush concert videos to be released individually?
Last June Rush released their 3 concert videos in one DVD set titled Rush Replay x3. At the time it was also claimed that they'd eventually also be released individually. Well, if this little blurb at musictap.net is to believed, then we'll see the individual packages on May 1st; the same day Snakes & Arrows is to be released. The blurb states that Mercury Records have three Rush DVDs coming on May 1. The titles are Exit...Stage Left, Grace Under Pressure, and A Show of Hands. The Exit ... Stage Left DVD is even listed on Amazon now - but no release date is given. Thanks to Don for the news.
Drumhead Magazine talks to Matt Scannell about Neil Peart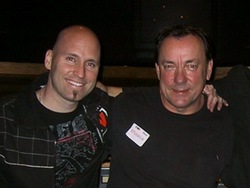 Power Windows is reporting that this month's issue of Drumhead Magazine contains an interview with Matt Scannell of Vertical Horizon where he discusses the story of his friendship with Neil Peart. From Power Windows:
... The article goes into detail of how Vertical Horizon was influenced by Rush, and Scannell also shares the story of his friendship with Neil Peart. Apparently Neil was in Texas selling his BMW car to a lady at a BMW dealership; her husband was Matt Scanelli, who was also present and recognized Peart. They hit it off and became good friends. ...
This past summer Neil Peart played drums on 3 songs for the next Vertical Horizon album, which Neil discussed in this news entry from his website. No news yet on when these songs will be released.
Rush makes list of Greatest Bands of All Time
Last month I reported that Cleveland's 98.5 WNCX was running a contest to determine the Greatest Bands of All Time. They've been announcing the results this past week and yesterday revealed that Rush came in at #11. Thanks to reader Tommy O for the news.