UPDATE - 3/11@11:08PM: Did Nick Raskulinecz really post comments in this thread!?! Well, today at a little after 1PM someone claiming to be him did. At first I thought... no way. I'd known for some time that if you google Nick Raskulinecz the first site that comes up is this one. So I would not be surprised at all if he at least knew of the site and perhaps visited occasionally. But put a comment here? Doubtful. But now... I'm about 99% sure it was him. I'll let you make your own decision. First read the comments on this post starting with comment #226. Then also read this post at Counterparts.
UPDATE - 3/10@2:11PM: I added a merged version of the 2 clips to the player too. Thanks to reader ironcladlou for making this available. Enjoy.
UPDATE - 3/10@9:23AM: Wow. I went out and had a few much-needed beers last night and come back to well over a hundred comments! Judging by 99% of the reactions I'd say the song is a hit. A couple updates... I added the short Far Cry clip to the player so you can play them side-by-side. Also, reader Kelly found the full epk (electronic press kit) for the promo on the FMQB site here. It's basically the promo image below with some promotional copy and a link to listen to the clip.
UPDATE - 3/9@4:52PM: Here it is!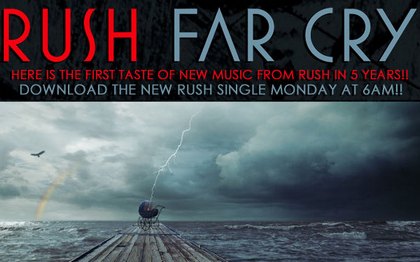 Cygnus The God Of Balance over at The Rush Forum got his hands on this promo packet for Far Cry which included a 45-second clip of Far Cry... which we are all hoping he'll provide soon. I'll make it available as soon as I can. He'll apparently be able to download the entire song Monday morning. So it looks like we'll be hearing Far Cry in its full glory on Monday! Thanks to John E for the heads up.
Related Posts:
[Official Snakes & Arrows sales sheet verifies cover art, track list]
[Snakes and Arrows cover art revealed]
[Snakes & Arrows partial complete track listing]
[Possible Snakes & Arrows artwork teaser?]
[Full transcript of Geddy Lee Revolver Magazine interview]
[Snakes & Arrows now available for pre-order]
[Snakes and Arrows release date pushed back one week]
[New Geddy Lee interview with Revolver magazine]
[Rush Snakes and Arrows rumor mill]
[New album release date May 1st; Far Cry sample online]
[New Rush single Far Cry to hit radio on March 19-20]