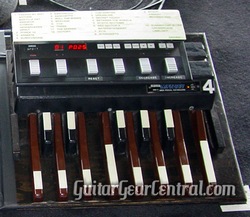 [Exclusive - Up Close and Personal with Alex Lifeson's Gear!]
GuitarGearCentral.com posted a bunch of pics of Alex Lifeson's gear from the R30 tour on their website last week. From the posting:
We are pleased to offer exclusive photos of Alex Lifeson's live rig used on the recent R30 tour. We hope you enjoy a stage-side glimpse of the guitars and floor-based units piloted by "Lerxst", (the nickname bestowed upon him by fellow Rush bandmates Geddy Lee and Neil Peart). So without further ado, we take you on our little "photo tour"...
The photos shown include his pedalboards complete with mini-setlist, several pics of his guitar rack, and his Hughes and Kettner amp. Great stuff. Thanks to reader crjphoto for the heads up.