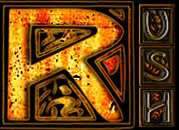 The Official Rush Contest Page and Mailing List, Rush.net, was recently updated. I'd noticed this myself but kept forgetting to post about it - thanks to reader Neil C for reminding me. They've redesigned the site with some new artwork (new album art?) and new features including a countdown timer to the album release date - although it's currently just counting down to the beginning of Spring since no release date's been announced. Here's their new welcome message:
Currently we are counting down the days left before spring, and we will of course update the Rush.net timer to countdown to the new album once a release date has been confirmed officially.

The screensaver and wallpaper downloads available on Rush.net's previous incarnation will be restored over the next few weeks. And we will be adding even more radio specials.

The Rush Radio Specials and Radio x3 have been combined and can be activated by clicking on the "Radio" link on the left. We've also added a new feature "Name That Rush Tune." Instructions and Rules are located under the "Name The Rush Tune" link to the right above this notice.