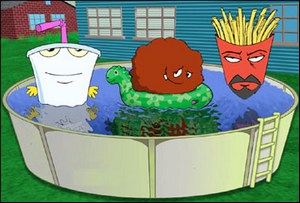 ['Aqua Teen' to bigscreen]
If you're not aware of this already, a movie version of the hit Cartoon Network show Aqua Teen Hunger Force has been in the works for over a year ... and Neil Peart provides his vocal talents to the film. The movie had originally been scheduled for a November 2006 release but was delayed. According to Variety it will now be released this March:
Adult Swim's feature version of surreal animated series "Aqua Teen Hunger Force" has been set for a March release by First Look Pictures with an opening of more than 800 playdates.

The 86-minute pic, written, produced and directed by co-creators Matt Maiellaro and Dave Willis, marks First Look's initial theatrical foray into animation as well as Adult Swim's first feature under the Williams Street banner.

The film centers on the origins of "Hunger Force" characters Meatwad, Frylock and Master Shake and an immortal piece of exercise equipment threatening the balance of galactic peace. ...
A short 90-second clip of the film was released online a couple of months back which you can check out at YouTube. It's the opening scene of the movie and unfortunately doesn't contain Neil Peart, but is funny nonetheless. If you've never seen the show, it's on Cartoon Network as part of its Adult Swim late-night programming block. The show's creators are big Rush fans and include several Rush references in the show, particularly in the episode titled "Spirit Journey Formation Anniversary" which you can watch here.
Related Posts:
[Aqua Teen Hunger Force movie footage]
[Aqua Teen Hunger Force Movie Delayed]
[Aqua Teen Hunger Force movie first screening]
[Aqua Teen Hunger Force movie release date]
[Aqua Teen Hunger Force #34 - "Spirit Journey Formation Anniversary"]
[Neil Peart and Aqua Teen Hunger Force]