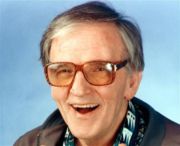 Alan Freeman was a well-known radio personality in the United Kingdom for over 40 years. He died this past Monday at the age of 79. Rush is mentioned in a couple of the various obituaries that have been popping up online. Back in the 70s Freeman became host of the Saturday Rock Show, which he piloted until 1978. One obituary states:
... The Saturday Rock Show boldly ignored such ephemera as punk rock, Freeman choosing to concentrate instead on hard or progressive rock stalwarts including Bachmann Turner Overdrive, Genesis, Jethro Tull, Led Zeppelin, Rush, Vangelis and Yes. ...
This other obituary put out by The Telegraph Group mentions his fondness for Rush's prog epic Xanadu:
... He was fond ... of a record called Xanadu by the rock band Rush, whose lead singer promised "To seek the sacred river Alph/To walk the caves of ice/Oh I will dine on honeydew and drink the milk of paradise", then added, as though striving for a more "fun" vision of the hereafter than that envisaged by the co-author of Lyrical Ballads: "Whoaah! Paradise!" ...
Rest in peace.