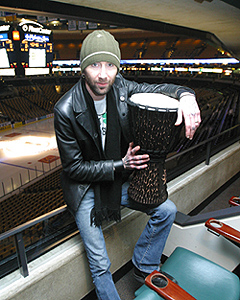 [Godsmack drummer 'Speaks' the truth about music]
In a recent interview with the Pensacola News Journal, Godsmack drummer Shannon Larkin talks about the first time that the drums "called to him".
"I was 10 or 11 years old, and my older sister was one of those chicks who was into Rush. She played 'Hemispheres' over and over, and that's when the drums first called to me," he said. "Then she brought home Led Zeppelin 'II' and man, that was it. I knew I wanted to be a drummer." ...
Godsmack has often cited Rush as a major influence. Singer Sully Erna wrote a song called Serenity on the group's album Faceless which was directly inspired by Neil Peart's book Ghost Rider. Also on the Godsmack live DVD Changes there is a "drum duel" between Shannon Larkin and Sully Erna (also a drummer) which contains a jam toward the end featuring Rush's YYZ and Tom Sawyer, Aerosmith's Walk This Way, and Led Zeppelin's Moby Dick. The duel is called Batalla de los Tombores and can be viewed here.