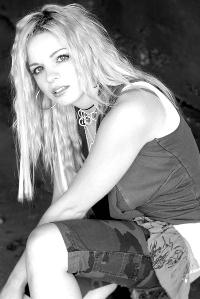 [Mythical Jakalope Returns to the Prairie to Play]
Earlier last month Canadian industrial rock group Jakalope released their 2nd album Born 4 with a little help from Alex Lifeson; he leant his guitar talents to one track. Jakalope was created in 2003 by Canadian industrial musician and producer Dave Ogilvie. Its members are constantly rotating but some of the core members include Katie B, Phil Caivano (Monster Magnet), Anthony Valcic (Fu) and Trent Reznor (Nine Inch Nails). Singer Katie B recently spoke with Vue Weekly and had this to say regarding Lifeson's involvement:
"It was so neat hearing what we had started and then hearing what he added," B reflects. "When you're starting a song you're so involved and when you give it to somebody else who's coming in from the outside they're hearing their own thing and they can quickly add something that you never would have thought of."