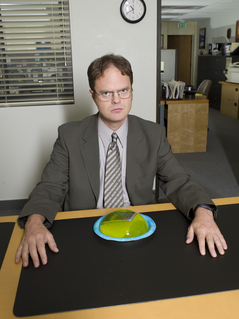 One of my current favorite TV shows is NBC's The Office. And probably my favorite character on the show is the quirky salesman Dwight Schrute (played by actor Rainn Wilson). Back in March Apple's iTunes store highlighted the playlists of some of the characters on the show, included Dwight - and it seems that he and quarterback Tom Brady have something in common. Track #6 on Dwight's list of Twelve Songs that Inspire and Motivate Me is Rush's Tom Sawyer. Here's his comment:
"What you say about his company is what you say about society." It's like it's describing me. Pure poetry.
Go here to view the entire playlist. You'll need to have iTunes installed. Thanks to reader Steve D for spotting this.