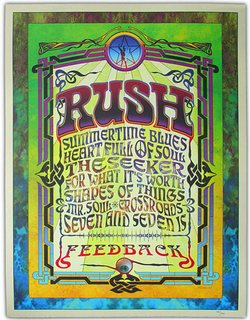 [Win a limited edition Feedback lithograph!]
The latest Rush Backstage Club contest is up. The winner of the Rush Bubblehead Dolls was Christopher Hoffman from Illinois. Here are the details on the latest contest from the site:
This 18" X 24" lithograph is produced on high quality heavy art paper. The psychedelic colors of the Feedback album look great on any wall. There were only 500 of these produced and this is number 489. This is a big-time collector's item!
No word on when the winner will be announced but I'd assume at the end of the month. Good luck!