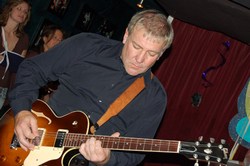 The Canadian Music Scene is reporting that Alex Lifeson's Toronto nightclub, The Orbit Room, celebrated its 12th anniversary this past Saturday. Big Al Dexter (aka Alex Lifeson) made an appearance and it was also co-owner Tim Notter's birthday.
Toronto's Orbit Room shared the spotlight on Saturday as it celebrated
it's 12th Anniversary and co-owner Tim Notter celebrated his... birthday!

The Dexters reunited for this event Mike, Bernie, Peter, and Lou Dexter had the place jumping even while patrons enjoyed the extraordinary cuisine served up by Chef Brian Dawkins.

Shakura Dexter made a special appearance getting the joint bopping to some Ray Charles tunes.

Big Al Dexter made some memorable guest appearances during the first and second set much to the delight ot those in attendance.

As are most of the events at the Orbit Room, it was a 5 out 5 star evening!
A bunch of cool pics from the event including several of Big Al can be seen here and here. Many thanks to reader subdivision40 for the heads up.