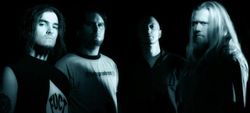 Machine Head is an Oakland-based metal band that's been around since 1992. They are currently working on their 7th album - The Blackening - which is due out in late March. Frontman Robert Flynn recently spoke with MTV about the new album:
... Flynn said Machine Head were on a Rush kick (particularly 1977's A Farewell to Kings) during the writing of The Blackening, and even took a few cues from the Canadian prog-rock icons.

"The one thing that they did is that they'd have these long songs that constantly had a continuing theme throughout them," he said. "The songs always reverted back to this one melody or this one hook — and that kept it in the context of a song so that ultimately, it wasn't just riff soup for 10 minutes. It kind of had some things that took you on a journey and then brought you back to something familiar. And that's something that we really started to try and bring into the mix. We'd have these long songs, but then we'd go back to these choruses or these hooks, but in a different context. The more we did it, the more we got excited about it. For whatever reason, it's worked." ...
Well put. I'm not a big Machine Head fan, but I may have to give this one a listen.