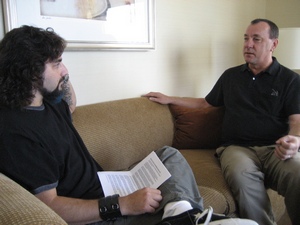 UPDATE - 11/9@3:13PM: The picture was actually posted by Mike himself to his website yesterday along with some more details about his interview with Neil and his involvement with Drummer Magazine as a "guest editor". You can read the entire post here. From the post:
Hi Gang!Well, as I briefly mentioned in passing a few weeks ago when I did Eddie Trunk's show, I can now announce the details of this great special issue of Rhythm Magazine I have been working on. (for those of you unaware, Rhythm is a drum magazine from the UK) I am honored to have been asked to play "guest editor" for this upcoming issue and I was given the opportunity to pick 4 drummers to interview that were influences on me and help shape me as a drummer in my formative years. The 4 guys I ended up choosing were Neil Peart, Nick Mason, Bill Bruford and Lars Ulrich. (for those of you knowing my love for the Beatles and wondering...yes I did have Ringo on my initial list as well, but Rhythm had just recently done a piece with him, so he was scratched off...) All 4 guys were totally accomodating, totally cool and totally happy to be on board for the project. Neil was the first to get together with me as we were able to spent some time together while he was in NYC in September doing some promo for his latest book. (which he so kindly had a personalized copy waiting for me!) Finally meeting him was really a cool experience as he's really one of the only drum heroes of mine that I hadn't met yet through the years. He was totally accomodating and friendly and he opened up to me on everything from his early influences to the writing and recording process in Rush.(and I must admit the "fanboy" in me couldn't resist having him sign one of my custom drums from my "Cygnus and the Sea Monsters" kit!)
--- snip ---
Earlier last month Dream Theater's Mike Portnoy divulged in a radio interview how he finally got to meet his hero Neil Peart:
"We did an interview together - an interview and a photo session - for a drum magazine in England called Rhythm. I haven't even announced this yet, but this is a really cool thing that I'm gonna be doing for Rhythm where they're letting me be the guest editor of an issue, and I get to interview and get together with several of my big influences. So I got together with Neil, I got together with Nick Mason from PINK FLOYD, [and] I'm gonna be doing Lars [Ulrich; METALLICA] and Bill Bruford [YES] next month when I get home from South America. Anyway, it's gonna be a really super-cool issue, and Neil was totally accomodating. As soon as I contacted him about doing this, he was totally on board - super-cool. We met and had a great time."

"It's funny. He's the one guy that's eluded me all of these years. I've met everybody -from Ringo [Starr], all across the board - but Neil was so elusive. All these years, I was thinking he was dodging me. I was starting to to take it personally. But he welcomed me with open arms. He was really, really cool. He's an incredibly cool guy."
Well it turns out that MitA managed to get his hands on a photo from Mike's interview with Neil. You can view the full size photo here. Thanks MitA!