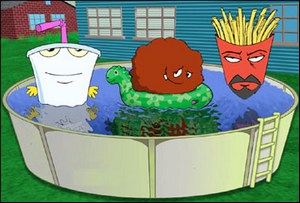 [Aqua Teen Hunger Force movie preview clip]
As was reported by Animation Magazine, AdultSwim.com previewed a 90-second sneak peak of the Aqua Teen Hunger Force movie yesterday. You can watch the clip here on their website or here on YouTube. Earlier this year the news came out that Neil Peart would be making an appearance in the movie. Unfortunately the clip does not feature Neil Peart at all - but it is funny.
The movie had originally been slated for a November 2005 release but was delayed until February 2007, with speculation that it will in fact be released straight to DVD. The Animation Magazine article doesn't shed any further light on this question other than to say that the movie was slated for a still-unannounced release date in 2007.
If you've never seen the show, it's on Cartoon Network as part of its Adult Swim late-night programming block. The show's creators are big Rush fans and include several Rush references in the show, particularly in the episode titled "Spirit Journey Formation Anniversary" which you can watch here.
Related Posts:
[Aqua Teen Hunger Force Movie Delayed]
[Aqua Teen Hunger Force movie first screening]
[Aqua Teen Hunger Force movie release date]
[Aqua Teen Hunger Force #34 - "Spirit Journey Formation Anniversary"]
[Neil Peart and Aqua Teen Hunger Force]