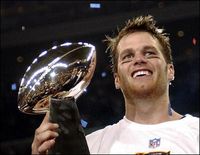 New England Patriots quarterback Tom Brady is a Rush fan. Nike.com is running a feature where they highlight the iTunes playlists for several famous athletes. Tom Brady's playlist include Rush's Tom Sawyer. He has this to say about the song:
This is a great tune that they play when our quarterbacks run onto the field pre-game. Gets me excited every time I hear it.
Me too Tom. :) To view his entire playlist you'll need to have iTunes installed. Just go to NikePlus.com, click on "Sports Music" and look for Tom Brady's icon. Many thanks to reader Dean for the heads up.