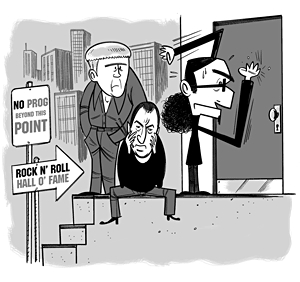 [Rock hall of fame announces latest crop of nominees]
The Rock and Roll Hall of Fame announced on Monday their latest batch of nominees for 2007; Patti Smith, R.E.M., Van Halen, Chic, the Dave Clark Five, Grandmaster Flash and the Furious Five, the Ronettes, the Stooges and Joe Tex. It's no surprise that Rush is not on this list. Since becoming eligible in 1999 they've been snubbed every year. I know there are a lot of Rush fans who feel very strongly about this subject and also a lot who don't give a rat's ass. Personally I fall somewhere in the middle. When they're inducted (and I do think they will be eventually) I'll be happy for them - but in the grand scheme of things it doesn't really matter that much to me.
Related to all this, reader Mark W sent me a link to his local classic rock radio station 106.9 The Fox in Virginia Beach and asked a favor. They're running a poll to see who should be added to the Rock and Roll Hall of Fame. Guess what? Rush isn't given as an option... and they don't even allow you to write-in a candidate. So if you have a minute and are so inclined, email the 106.9 morning DJs John and Leila at JohnandLeila@1069thefox.com and let them know what you think about them excluding Rush.
Related Posts:
[Eddie Trunk and Terrie Carr discuss Rush and the Rock Hall on VH1 Classic]
[Article on bands overlooked by Rock Hall snubs Rush]
[Rock and Roll Hall of Shame?]