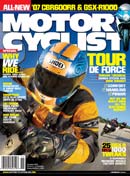 In the November 2006 issue of Motorcyclist Magazine there's a section called Why we Ride where various people give their reasons as to why they ride motorcycles. Neil Peart gave the following response:
We ride for joy - for freedom, weather, wildlife, curiosity, speed, escape, satisfaction, challenge and grinning out loud as we rail through a perfect curve. And when the bike is parked at the end of the day, there is another kind of joy: the elevated sense of accomplishment and survival, and the taste of that fine Scottish beverage...

- Neil Peart, author, drummer and lyricist for the legendary rock band Rush
Well said Neil. Thanks to Cygnus-x1.net for the heads up.