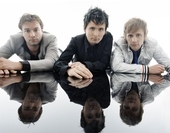 [Musing moments]
Muse is an English progressive/alternative rock trio that's been around since the mid-90s. The band has always been very experimental in their approach to music, thus garnering several comparisons to 70s-era prog rockers, particularly Queen. They were recently interviewed by Cameron Adams of Aussie newspaper, The Courier-Mail. Singer/guitarist/pianist Matthew Bellamy had this to say regarding their prog-rock label:
... "There's always been a hint of prog in what we do," Bellamy admits bravely. "Hopefully we've measured it out with equal hints of other things, so we haven't managed to be completely associated with just prog. "When the band first started we were more instrumental than we are now. I suppose we did sound a little like ('70s progsters) Rush; Rush with a bit of grunge thrown in." ...
You can find out more about Muse and listen to some tunes on their official website and their MySpace page.