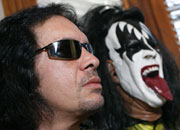 [Gene Simmons: Interview]
In the August, 2006 edition of Blender Magazine Gene Simmons of Kiss is interviewed. He mentions Rush, albeit not in a very flattering way.
But you did give many huge bands opening slots and their first big breaks.
We liked them. The first bands that went off on tour with us were, oh, Bon Jovi, AC/DC, Rush, Cheap Trick, Judas Priest, Iron Maiden, Scorpions, Mötley Crüe … I mean, I can't even think of all of them.

...

Speaking of Rush, would you have anything to say to Geddy Lee?
Well, we took them out on their first tour. I would say, "You're welcome."
What an ass. Rush has never had anything but good things to say about touring with Kiss. Regardless of Simmon's opinion, Ace Frehley and Peter Criss have both recounted some great stories about touring with Rush. Peter Criss said I really like them guys, we had so much fun. Rush are true gentlemen, Canada should be proud of them. I miss them. And Ace Frehley spoke fondly of the boys in an interview with Eddie Trunk from last year.