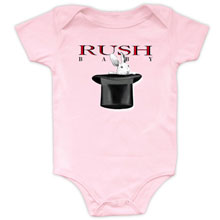 [Rush Backstage Club]
Well, the Rush Backstage Club has been threatening to release their new "revamped" site for a few weeks now and ... it's finally here. It looks great too. They've got a lot of new merchandise including a kid's line! This is great news for all of us Rush-fans/parents. They also are going to start having bi-weekly contests (at least that's what is claimed), the first of which is for the complete tourbooks coffe table book. Here are the details:
This is a 400 page coffee table book with all of Rush's tour books to date, a total of 15 books. The books have been reproduced and bound together in a black, cloth-wrapped 12" X 12" book. Every cover of every book is printed on cover stock. The front cover is debossed in black and silver foil with the starman logo. There is a two-page introduction written by Neil Peart, detailing his involvement in the design and content of every Rush tour book going back to 1977.

This item retails for $150 USD, so good luck to you!!

This contest closes on September 30th.
... wait a second. I entered the contest and the message that came back was this:
You have successfully entered the Rush Backstage Club contest!

Thank you for entering the "Win A Montblanc Starwalker" contest!

This contest closes 8/31/2006. Return to Rush Backstage for more details then.
I thought I was entering for the tourbooks? So it looks like they're still working out some bugs. :)