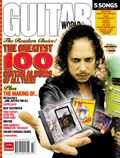 The October 2006 issue of Guitar World has an article listing the "100 Greatest Guitar Albums of All Time". In at number 27 is Rush's Moving Pictures. Here's what they say about it:
A keyboard-heavy, new wave/hard rock amalgam, Moving Pictures contains no proggy sci-fi tunes about rebellious trees or Syrinx-dwelling priests. Instead, we get one song named after a Mark Twain character and another based on a short story about a freakin' car. The thing is, both songs - "Tom Sawyer" and "Red Barchetta," respectively - totally rule, as does the crunchy, crystalline "Limelight," which features a stellar wang bar-abusing solo by Alex Lifeson. Add the morse code cribbing instrumental "YYZ" and you have that rare beast that classic rock radio used to refer to as the Perfect Album Side.
They also include a quote from Alex Lifeson:
If we've influenced a generation of bands or musicians, it's because they look at Rush and think, Here's a band that wasn't popular in a mainstream way, yet they've been around for 30 years.
Many thanks to Mark in Virginia Beach for transcribing this for us.