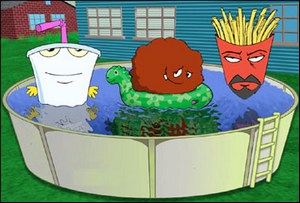 [Bruce Campbell As A Chicken Nugget!! "Fucks!", "Shits!", And "Bleeps" Ahoy!! It's AQUA TEEN HUNGER FORCE: THE MOVIE!!]
Late last year the news surfaced that Neil Peart would be making an appearance in the upcoming Aqua Teen Hunger Force movie, due out this September. Apparently there was an early screening of the movie at the Mall of Georgia outside Atlanta sometime last week. This was reported by Ain't It Cool News. Here's what they had to say:
... Last night at the Mall of Georgia just outside of Atlanta they held what we were told was the first ever screening of the Aqua Teen Hunger Force movie. They told us some of the music and animation were temporary, and it was lacking opening and closing credits, but otherwise it looked mostly complete.

As for the movie itself, I really enjoyed it. I was worried going in that the fast pace of the 15 minute episodes wouldn't be able to sustain itself through a 90 minute movie, but they managed to pull it off.

As reported before, the story revolves around the origin of the Aqua Teens, which somehow involves an exercise machine, Neil Peart from Rush, and a slice of talking watermelon voiced by Chris Kattan. ...
I can't wait to see it - sounds hilarious. If you've never seen the show, it's on Cartoon Network as part of its Adult Swim late-night programming block. The show's creators are big Rush fans and include several Rush references in the show, particularly in the episode titled "Spirit Journey Formation Anniversary" which you can watch here.
Related Posts:
[Aqua Teen Hunger Force movie release date]
[Aqua Teen Hunger Force #34 - "Spirit Journey Formation Anniversary"]
[Neil Peart and Aqua Teen Hunger Force]