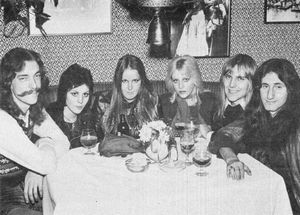 [Photo: Rush with The Runaways]
UPDATE - 8/1@4:00PM: The other member is Cherie Currie. Thanks to Engin for figuring this out.
MitA posted this interesting pic of Rush from 1976 over at the Counterparts message board today. It's from a 1976 function held in Rush's honor and pictures Rush with members of the all-girl group The Runaways sitting around a table. Joan Jett, Lita Ford and one other (not sure which one that is) are present. Cool.