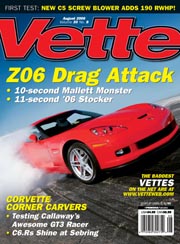 Vette Magazine is a magazine about ... you guessed it - Corvettes. In the last few issues the magazine has featured a multi-part series titled Fire Sale where the Vette Mag tech crew is fixing up an '87 C4 coupe. In the August 2006 issue, they installed a spray-on sound-deadener from Cascade Audio called VB-1X and Neil Peart indirectly lent some help. Here's an excerpt from the article:
This month we took the install to the next level, with Cascade's VB-1X, a spray-on sound deadener that's similar to a truck-bed coating. The differences were instantly noticeable, and thanks to a Radio-Shack issue decibel meter and the Neil Peart Drum solo "Der Trommler", we know the extent of the changes.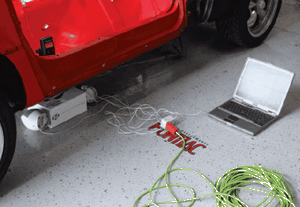 This is very cool. Here's a picture and description of their setup.
Neil Peart of Rush bangs away on the skins in his drum solo "Der Trommler." We got our results by playing the music through a set of laptop speakers positioned underneath the floorpan. Once the car is fully assembled, we will provide final numbers and compare them with the readings taken before the C4 died of heart failure. For now, you can at least see there was a difference-an 11db difference to be precise.