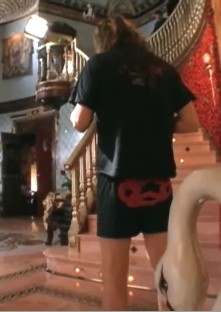 [SuperGroup: Episode 5]
In episode 3 of VH1's rock reality show SuperGroup, former Skid Row frontman Sebastian Bach wore a Rush Moving Pictures t-shirt. You can check out a screenshot and watch the episode here. It seems that this isn't the only piece of Rush apparel he owns. In the latest episode (episode 5) of SuperGroup, Bach models his 2112 boxer shorts as well. You can watch episode 5 online at VH1's website, here.
The premise of SuperGroup is that five musicians are packed into a large mansion and must play a show after living together and writing original music for twelve days. In addition to Sebastian Bach, cast members include Ted Nugent, Scott Ian (of Anthrax), Evan Seinfeld (of Biohazard) and Jason Bonham.