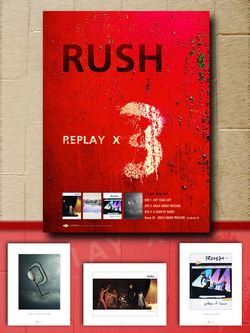 [Win A Replay X3 Poster Pack!!]
This is weird. A couple weeks ago the Rush Backstage Club launched a new contest where the prize was a Test for Echo 8x10 glossy print. They said the winner would be announced on July 1 but apparently they've already announced a winner and are now running a new contest. Whatever.
Anyways, the new contest is for a Replay X3 poster pack. Here are the details:
Sign up to win 4 promo posters from Replay X3. The four posters are Replay X3, Exit Stage Left, Grace Under Pressure, and A Show Of Hands. We will be giving away 10 of these poster packs so you have a great chance of winning.

Good Luck!!

The winners will be announced on July 1st, 2006.