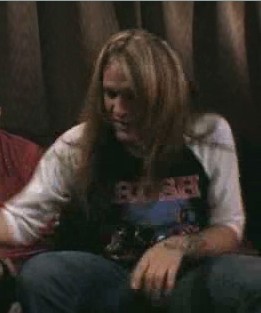 [Supergroup: Episode 3]
The latest episode (Episode 3) of VH1's SuperGroup reality show features Sebastian Bach sporting a Rush Moving Pictures t-shirt. If you've never seen the show, the premise is that five musicians are packed into a large mansion and must play a show after living together and writing original music for twelve days. In addition to Sebastian Bach, cast members include Ted Nugent, Scott Ian (of Anthrax), Evan Seinfeld (of Biohazard) and Jason Bonham. The VH1 website recently posted the episode online and you can watch it here. Note that the video clips on vh1.com only work in Internet Explorer.
Sebastian Bach is a big Rush fan and has performed covers of the band's songs on various tribute albums. In an interview preceding the release of the Rush tribute album Subdivisions last year, Bach had this to say regarding the band:
Their time signatures fascinated me! I couldn't understand the tempos of songs such as 'Cygnus-X1' and 'Hemispheres'. It was music like nothing else I had ever heard. But being a young Canadian whippersnapper I was geographically programmed to worship RUSH like the rest of my fellow Canadians. ... "I was the second ever member of the 'Rush Backstage Club of Toronto', the RUSH fan club put together by their longtime photographer, Andrew MacNaughton. Andrew was the cousin of my school roommate, George Jeffries at Lakefield College School in Canada. He was the first member of Andrew's 'club' which we joined in 1981. RUSH was a magical sound to me and showed me that music could be challenging and entertaining at the same time. ... Few musicians on the planet can boast the longevity of RUSH, especially in a band context. Rock bands are a fragile organism and RUSH's career demonstrates that there are exceptions to the 'Behind The Music' scenario of band makes it big / band breaks up / band reunites for Japanese tour. Their work ethic and constant reinvention is an inspiration to each and every musician.
Apparently during the filming of the show veteran rocker Ted Nugent had a discussion with Bach about his drinking which was the catalyst for him to go sober. He talks about this in a recent interview and mentions Rush once again:
... The truth of the matter is, between the ages of 15 and 37- I cannot think of more than five days or a week that I did not drink alcohol, ... That's just the way that I've lived since the mid-eighties, (with) all my bands, and my family, and being Canadian. Where I grew up, there were three things: hockey, beer and Rush. That's pretty much it. I didn't know one person when I was fifteen that did not drink beer. ...