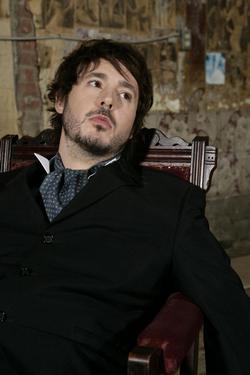 [Dearly Beloved's Music Evolves From Sad Situation]
Rob Higgins is a Toronto music scene institution who also happens to be Geddy Lee's nephew. His former bands include Change of Heart, Doctor, Rocket Science and a short stint with Our Lady Peace. Uncle Geddy lent his producing and background vocal skills as well as his home studio to Rocket Science for their 2002 debut album, Foolscap. Asked about how it was being Geddy's nephew and spending time around Rush, Higgins said: I got to hang with them in the studio, studying every move, analyzing their songwriting. I went on tour with them, studied every gig.
Higgins' latest project is called Dearly Beloved and their new album from Kindling/Warner is titled You Are the Jaguar. The album was inspired by Higgins' father who was sick for some time and passed away last week.
... "When my dad first got sick, I started having these panic attacks, so I left to Florida for a week to get away from the stress of being here. And when I got there I wrote eight of the 10 songs for the album on the balcony with my acoustic guitar. So it's interesting to listen to the record now. It sounds like what it was like to go through those things. I don't want to sound fucking pretentious, but it feels like the closest thing to honest art that I've ever been involved with — a real extension of my life."

The way Dearly Beloved came to be an ensemble was through Higgins' need for extension. What started out a solo effort soon became an album made with friends and an impromptu band. Singer Niva Chow from Sticky Rice, guitarist Damon Richardson, who used to play drums for Danko Jones, and Sometimes Why guitarist John Pogue are a few names involved in the project. This makes for an interesting group dynamic of friends playing together without the pressures of being an official lineup. ...