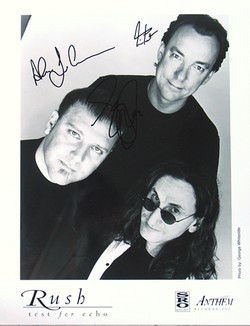 [Win An Autographed T4E 8X10!]
Last month's Rush Backstage Club Contest is over. The winner of the Limited Edition Lithograph was Ricardo Reyna from San Antonio TX. Congratulations. This month's contest is now underway. The prize is a an autographed Test for Echo 8x10 glossy print. Here are the details from the site:
This promotional glossy 8X10 was autographed during the T4E tour by all three guys. Just fill out the information below and you will be entered in the random drawing. All people placing orders from the site during the month will be automatically entered in the draw as well.

Good Luck!!

The winner will be announced on July 1st, 2006.
Good luck!