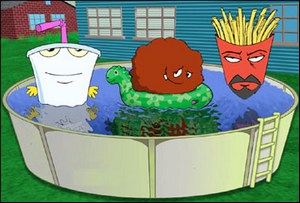 [Aqua Teen Theatrical Feature to Debut This Fall]
As reported in back in late January, Neil Peart will be making an appearance in the upcoming Aqua Teen Hunger Force movie. Adult Swim recently announced that the movie will be released in theaters this September.
For those of you who don't know, Aqua Teen Hunger Force is an American animated comedy shown on Cartoon Network as part of its Adult Swim late-night programming block. The show's creators are big Rush fans and include several Rush references in the show. There's a good summary of these at Power Windows including this neat video montage. You can also watch the entire "Spirit Journey Formation Anniversary" episode here.