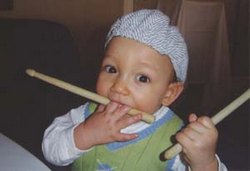 [Julian Pavone: The Little Drummer Baby]
This kid is amazing. He's not even 2 and he can play the drums. Not surprisingly, he's a Rush fan already. From his bio:
While standing only 31" tall and weighing in at 27 pounds, 16 month old [he's 21 months old now] Julian is certainly a star in the making. Playing the drums while sitting atop his father's lap since the age of three months, this rhythmic child could keep a steady beat while rolling around in his mother's womb! Since then, he has progressed to being able to perform drum rolls and actually plays syncopated beats. Too small for his feet to reach the bass drum or high hat pedals, he sits in his high chair playing dad's prized DW's. His favorite bands to rock to include, The Beatles, Led Zeppelin, The Who, Chicago, ToTo and Rush.

Recently, he has applied to the Guinness Book of World Records as "The World's Youngest Drummer". At this point in his young career, he enjoys entertaining his family and friends, but is looking forward to beginning his stage career as the opening act for some local talent. Check back frequently to catch the latest news in Julian's young career...