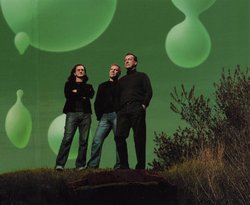 [Avril, Rush, Nickelback participate in photo auction for Third World relief]
Rush friend and photographer Andrew MacNaughtan is organizing a charity auction as part of the Art Gives Hope: A Decade of Music Portraits exhibit at Toronto's Monte Clark Gallery which begins today. From the article:
... The more than 60 photos, including shots of Rush, Nickelback and the Barenaked Ladies, were taken by Andrew MacNaughtan, a Toronto music photographer and art director who has created album art photography for more than 100 projects. He had the celebrities autograph portraits he's taken over the past decade.

Money raised will go to families living with HIV/AIDS in Africa via World Vision Canada.

MacNaughtan says he was inspired by last year's Live 8 concert. He hopes fans of the artists will be inspired to become activists for social change in Third World nations.

"Art certainly functions on a personal and visceral level yet it's also beneficial as a consciousness-raising tool," said MacNaughtan.

The auction closes on March 17. MacNaughtan hopes his prints will raise at least $100,000.
2 Rush prints are available; one is a picture of the band from the Feedback EP and the other is a R30 promo photo. There's also a pic of Neil Peart and his drumset outdoors.