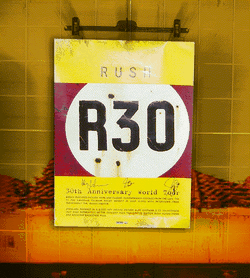 [Rush Backstage Club: Win an autographed R30 promo poster!]
Well... I lost the Rush Backstage Club Contest again. The lucky winner of the autographed Rush In Rio DVD was Nicolas Daoust from Quebec. However, the good news is that they're running a new contest! This time the prize is an autographed R30 promo poster. Here are the details from the site:
This poster is 16" X 22" and is signed by all three members of the band. A nice addition for any collector. Just fill out the information below and you will be entered in the random drawing. All people placing orders from the site will be automatically entered in the draw as well.
Good Luck!!

The winner will be announced on April 1st, 2006.
April 1st? Probably not the best day to announce the winner of a contest. :) Good luck!