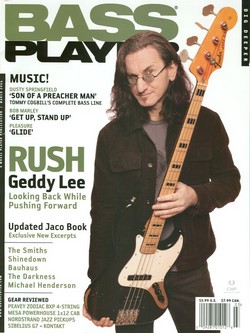 [Living In The Limelight]
UPDATE - 4/17@11:20AM: Rush Replay X 3 is now available for preorder through Amazon.
UPDATE - 4/6@9:50AM: The June 13th release has been confirmed. It is also confirmed that it will indeed be a box set containing all 3 concerts. The title is Rush Replay X 3.
UPDATE - 3/31@9:30AM: It is rumored that the DVD reissues (be it just the ESL DVD or some sort of box set) will be released on June 13. Once there is an "official" announcement, I'll let you know.
The full Bass Player Magazine interview with Geddy Lee from the March 2006 issue mentioned in this previous post is now available online. It's a good interview; Geddy discusses the different basses he's used over the years, his playing and writing style, and heaps praise on his bandmates. But the most interesting bit is in the introduction. From the article:
... This spring, three little letters will make Rush fans very happy: DVD. On the heels of the band's R30: 30th Anniversary World Tour DVD/CD release, the three classic concert videos All the World's a Stage [Grace Under Pressure??], Exit ... Stage Left, and A Show of Hands will finally be released in digital format. ...
So according to this article, the DVD reissues will come out sometime this spring. For a while, it was being reported that the Exit ... Stage Left DVD would be released on March 7th. This report was later proven false. The latest rumor I've heard is that not only is Exit ... Stage Left ready for release, but that all the DVDs are ready. Exit ... Stage Left had been slated for a March 7th release but apparently the band decided to hold off because they wanted to do something other than just releasing the 3 DVDs separately. The collective speculation is that some sort of box set is likely. Alex Lifeson actually said that a box set would "make more sense" in this Billboard interview back in December. Hopefully there'll be some tasty extra bonus stuff too, but we'll just have to wait and see. Remember, this is all rumor; I'll keep you posted as I find out more.