Friday, July 8, 2011
Updates and other random Rush stuff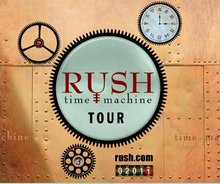 It's over. After 3 months and 38 shows, Rush wrapped up the 2011 leg of their highly successful Time Machine Tour this past Saturday at The Gorge outside Seattle. Here's a bootleg video of the final song (Working Man) of the night and the last song of the Time Machine Tour tour which includes Geddy's parting words: f*cking awesome tour!. :) According to various interviews from over the past year, the band will now take a much-deserved break for the remainder of the Summer until continuing work on their upcoming Clockwork Angels album this Fall. If all goes according to plan, the album will release next Spring and be followed by an extensive tour in support of it. Until then we have the release of the Time Machine live DVD this Fall to look forward to. Last week Billboard released sales and attendance figures for another 16 shows from the tour and Rush ended up making their Hot Tours list for the week coming in at #2. There were several more sellouts in this latest batch; Cleveland, Detroit, Montreal, Baltimore, New Orleans, Austin and El Paso join Sunrise, Hershey and New York as sellouts. That makes a total of 10 sellouts out of the 22 shows reporting attendance figures so far. For all of the specific tour numbers check out this post or the tour section. Speaking of the tour, this past week Paul at The Canadian Music Scene website began posting a series of interviews he conducted with different members of Rush's road crew over the course of the Time Machine Tour. If you haven't already, you can check those out at this link.
In celebration of Canada Day last Friday, Vancouver artist William Meire's art exhibit Face of Canada opened at Canada Place. The exhibit includes more than 100 oil portraits of notable Canadians including Geddy Lee. From an article in The Province covering the event:
... Meire says it's been hard narrowing down his list of notable Canadians. And he's not done yet, as he continues to paint. But if he had to choose just one, who would be his favourite Canuck celebrity?

"I love Rush, I'm a Rush fan. I love Geddy Lee, as far as entertainers, he's very inspiring to me. And Neil Young, of course, they'd be right up there as far as entertainers. They're so inspiring, I listen to them both constantly as I paint," he says.
Also in celebration of Canada Day, Chill magazine listed in their latest issue (issue #49) 144 reasons to be a proud Canadian and #21 was Rush:
This Canadian rock and roll trio is known for its complex compositions, its lyrical mastership and being on the cover of issue 43 of Chill Magazine.
Issue 43 was the July/August 2010 issue which you can check out online at this link. Thanks to Power Windows for the heads up.

We learned earlier this week that the August, 2011 issue of the UK's Rhythm magazine includes an 11-page cover feature on Neil Peart. In the interview Neil talks about his life-long pursuit of drumming excellence and why after 45 years of drumming he is still working to make himself a better player. He covers topics such as taking drum lessons from drum legends Freddie Gruber and Peter Erskine, improvisation, finding the perfect sound and more. The feature also includes a guided tour of the Time Machine Tour kit from Neil's drum tech Lorne Wheaton (as featured in this video) and a look back at Peart's first-ever Rhythm cover way back in 1987.

Alex Lifeson is the subject of a cover feature in the September, 2011 issue of Vintage Guitar magazine:
Alex Lifeson
Rush Keeps Rollin'
Critics have called them pretentious since the start, and not every rock listener signed on as a fan. But Rush has always focused on writing songs, playing, and performing to the best of their individual abilities. Through the group's many musical changes, Alex Lifeson has provided unique guitar work, and played mandolin, bouzouki, mandola, along with other instruments. By Elliot Stephen Cohen

Alex Lifeson is also featured in an article for issue #217 of Total Guitar magazine.
Rush
As the prog rockers wrap up their worldwide Time Machine Tour, guitarist Alex Lifeson gives TG a personal tour of his extensive live rig.
RIAB reader Jetpacks - founder of the website Radio Free Babylon - has included a Rush reference in the latest installment of his Google street views art series Saturated Street Scenes. Finding a limo being polished on Adelaide St. East in Toronto, the artist affixed an original Rush logo license plate to the car. You can check it out at this link. This is not the first time Jetpacks has combined Google street views with Rush, having created a spec spot for Porsche using what he calls the one thirty second snippet of Rush music that unites all generations of Rush fans, from the early head bangers through the mullet and synth years and into today. That creation can be be viewed at this link.
Sons of Anarchy is a television drama series created by Kurt Sutter about the lives of a close-knit outlaw motorcycle club operating in the fictional town of Charming, California. Sutter has a video blog where he answers questions from fans and in the latest installment he's asked about the possibility of using Rush music in the show. You can check it out on YouTube at this link at about the 3-minute mark. Thanks to tedd1108 for the heads up.

Reader jg2112 alerted me to the fact that Rush was included in the Guinness World Records Gamers Edition 2011 as having the record for Longest Song Featured in a Rhythm Game, namely 2112 from last year's Guitar Hero: Warriors of Rock. From the entry in the book:
Longest Song Featured in a Rhythm Game
Holder: "2112" (Rush, 1976)
The prize for the longest commercially released song to be featured in a rhythm game goes to veteran Canadian rockers Rush, whose 20-min 23-sec 1976 track "2112" features as the final number in Guitar Hero: Warriors of Rock (Activision, 2010).

Reader Greg W alerted me to this photo on Flickr which cleverly recreates the album cover from Moving Pictures using legos. You can check it out at this link. There's also this Lego version of the Hold Your Fire album cover.
Rush's Tom Sawyer is featured on this week's All Songs Considered podcast as part of their summer memories theme. You can check it out at this link (thanks Zutroy).
A couple of weeks ago music industry insider Bob Lefsetz wrote up a glowing report of the June 20th Rush show he attended in Los Angeles for his popular Lefsetz Newsletter. Shortly after this newsletter went out, he received a letter from one of Rush's former tour managers - Keith Brown - which he included in his June 29th Mailbag edition of his newsletter. Here's the letter:
I tour-managed Rush's first cross-Canada tour in 1977 and to work with them is to love them.

In those days each permanent crew member took a rotating turn at being an honorary band member. That meant every sixth day each one got to travel with the band and only had to work the sound check and the show (no load-in or load-out.) The band also always ate with the crew to ensure the promoters would provide good meals. I never encountered a road crew that was more dedicated.

When we played Halifax the crew was remarkable. The venue was the old Halifax Forum - filled to its 6200 capacity. The rink was made entirely of wood and built on short piers so there was air beneath the floor. It could have burned to the ground in 15 minutes and it almost did. Just as the band took the stage, it seems someone in the audience threw a burning sparkler up in the air which landed on top of the big score clock suspended over "center ice". About three songs in, Geddy spotted the flames shooting up. He stopped the band and started yelling "crew, crew, crew" and pointed at the score clock. As if they had practiced for that moment, the crew flew into action. Mike Lurch, the security chief, literally plowed a path through the crowd as four crew guys pushed the cherry-picker (normally used for aiming par lights) towards the fire. As this was happening, another crew member was scrambling up the cherry picker armed with two fire extinguishers. In a minute the fire was out, a tragedy was averted and a minute after that, Rush was back in business rocking the place. At the end of the show the arena manager, Keith Lewis, entered the band's dressing room. Tears were rolling down his cheeks as he thanked Rush and their "boys" for saving hundreds of lives.

Rush is amazing, and not just because of their music.
There was a Rush reference on last Friday night's episode of The Soup on E!. About half way into the show they were showing a clip from the ABC show Extreme Makeover - Weight Loss Edition. The clip showed a rather large African American girl who wanted to learn how to play drums sitting in a gymnasium, and her drum coach walks in playing a marching band drum. She then jumps up and hugs the guy. They then show her in an offscreen interview asking, Who is that white boy with the drums? The host Joel McHale then stops the clip and chimes in (using his best urban female voice):
Is that Neil Peart? Because if it is I want him to play Tom Sawyer. Actually anything off of Moving Pictures. Even better, if he could play something from Hemispheres side 2 - hey man, he could play anything. I'm a huge Rush fan! Did I say Rush? I meant hot fudge sundaes...
You can watch the clip on YouTube below or at this link.
I had been scheduled to make an appearance on this past Tuesday's edition of internet radio show Used Bin Radio, but due to technical issues they had to cancel the show. I'm not sure as of yet when the appearance will be rescheduled, but it should be in the next couple of weeks. I'll keep you posted. That's it for this week. Have a great weekend everyone!