Monday, June 28, 2010
SPOILER ALERT: Time Machine Tour rehearsal setlist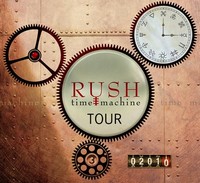 UPDATE - 7/2@2:02PM: For the sake of completeness, I've included the final setlist as I have listed in the tour section below the fold.
UPDATE - 6/29@8:55PM: John Arrowsmith has uploaded a bunch of spoilerific pics from rehearsals in Albuquerque to the (*SPOILERS*) Rush.com Multimedia: Rush on the Road section. Included are several closeup photos of the guys on stage rehearsing, and their equipment/gear can be seen in detail.
UPDATE - 6/29@1:37PM: Reader hermy let me know that Neil Peart drum tech Lorne Wheaton posted a photo of himself with Neil's new kit to his MySpace page. You can check it out below the fold.
UPDATE - 6/29@11:48AM: A very detailed photo of Neil Peart with his new Time Machine Tour kit (presumably from the tour book) is floating around the various messageboards too. You can check it out at (*SPOILERS*) this link or below the fold (thanks Bigleaf).
UPDATE - 6/29@11:29AM: Peartdrumsticks at Counterparts very astutely noticed that the Rush Backstage Club has the Time Machine Tour tourbook listed for sale along with a couple of shots of the inside of the book. In the pictures you can make out Geddy, Alex and Neil's stage setup - although the photo is very low-res. However, Peartdrumsticks blew up the photos and compared them with some of John Arrowsmith's teaser photos. You can check out the blown-up images at (*SPOILERS*) this link (*SPOILERS*).
UPDATE - 6/29@9:38AM: I've added a photo of the rehearsal stage setup that's been floating around the message boards. You can check it out below the fold.
UPDATE - 6/28@5:47PM: I made a brief update to the setlist below. Nothing changed - just more info regarding one of the songs.
Rush held a full production rehearsal for the Time Machine Tour at the Hard Rock Pavilion in Albuquerque, NM last night and I've received a few setlist reports from fans who were within earshot. So without further adieu, you can view the rehearsal setlist below the fold (MAJOR SPOILERS!! ... obviously). In other tour news, readers Louis2112 and DallasRUSHian note that the back of the new Time Machine Tour Moving Pictures t-shirt at the Rush Backstage Club reads Time Machine Tour 2010: USA/Canada/S.A.. This seems to be indirect confirmation that Rush will indeed include a South American leg of the tour as I'd reported earlier this month. Rush.com has revamped the Multimedia: Rush on the Road section of the website. Rush tour photographer John Arrowsmith will be regularly posting tour photos to this section of the site beginning with tomorrow's show. And Neil Peart drum tech Lorne Wheaton reported in his latest MySpace status update that he'll be launching his new website at LorneWheaton.com tomorrow.
Related Posts:
[Neil Peart Time Machine Tour drum kit cymbals sneak peek]
[Rush confirmed to play Santiago, Chile on October 17th?]
[Rush South American Time Machine Tour leg in mid October?]
[Official Rush 2010 Time Machine tour dates!]
MAJOR SPOILERS BELOW!! ....