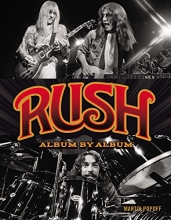 Prolific author and rock journalist Martin Popoff's latest book is titled Rush: Album by Album - a beautifully illustrated and detailed discography of all 20 of Rush's studio albums. The book had originally been slated for a May 1st release but has already begun shipping from Amazon and other online retailers, and you can order your copy at this location. From the press release:
... [Rush] may be the definition of an "album band," and this new book from prolific rock journalist and acknowledged Rush authority Martin Popoff pays tribute to the band's discography by moderating in-depth, frank, and entertaining conversations about all 20 of Rush's studio albums. Inside, the author gathers 20 rock musicians, journalists and authors who offer insights, opinions, and anecdotes about every release.

The likes of musicians Kirk Hammet (Metallica), Paul Gilbert (Mr. Big), Mike Portnoy (Dream Theater, Winery Dogs), Rush historians and uber fans such as Eddy Maxwell (founder of RushCon) and Douglas Maher along with journalists and authors such as Jeff Wagner and Robert Telleria weigh in with Popoff and the views and opinions will enlighten all Rush fans. From the self-titled debut, Rush to the band's most recent studio album Clockwork Angels, every album is covered in-depth. The conversations cover everything about every Rush album - music, lyrics, performances, cover artwork, critical and fan reception and so much more.

The thoughtful text is generously illustrated with carefully curated live and offstage photography and selected Rush memorabilia. In addition to a full discography, Popoff also includes loads of sidebars that provide complete track listings, details on album personnel, information on where and when the albums were recorded, and sidebar facts about the albums, their songs, and the band. Together, the conversations and visual presentation are a unique historical overview of this ground-breaking band. ...
Rushisaband.com has one FREE copy of the book to give away! To enter for your chance to win, just send an email to rushisaband@gmail.com with the subject RUSH ALBUM BY ALBUM CONTEST and the correct answers to the following three questions:
1) What is the title of the first official Rush biography AND the name of the author who wrote it? (hint: published in 1988)

2) What was the title of Martin Popoff's first book? (hint: published in 1993)

3) What Canadian heavy metal publication was Popoff editor-in-chief of from 1994 to 2008? (hint: the print version of the magazine ended in 2008, but the online version is still around).
One entry per person, and entries must be received by midnight EST on Sunday, May 7, 2017. Rush: Album by Album is the third Rush book from Popoff who also authored the 2004 Rush biography Contents Under Pressure, along with Rush: The Unauthorized Illustrated History back in 2013 (an updated edition was released last year). You can order your copy of Rush: Album by Album at this location, and preview several chapters of the book here.