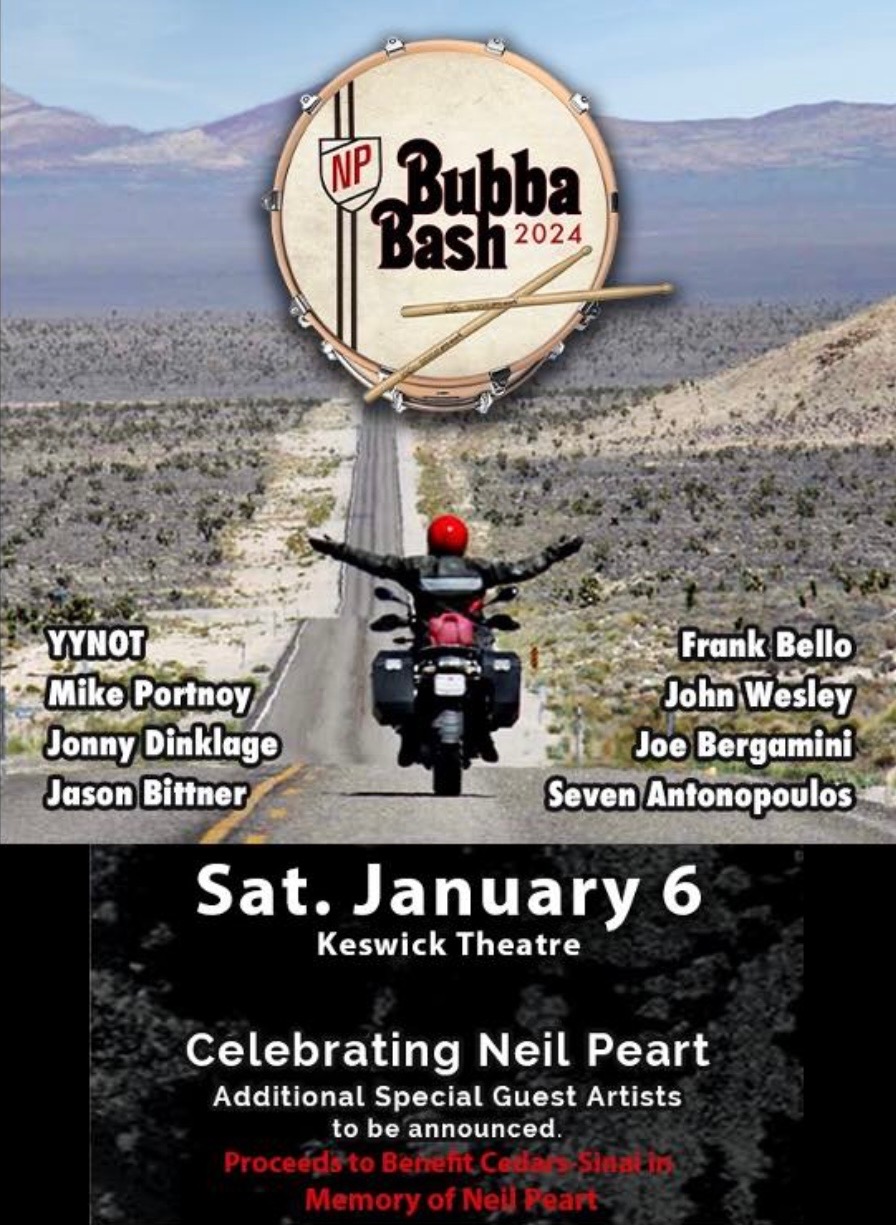 Last year on the 3rd anniversary of Neil Peart's passing, Rush tribute band YYNOT held a charity concert dubbed Bubba Bash in celebration of The Professor at the Keswick Theatre outside Philly (Glenside, PA). Earlier this week they announced that they'll be bringing back the event for 2024 on Saturday, January 6th, with tickets on sale TODAY as of 10AM. Like last year, the show will be "In Celebration of Neil Peart", and feature YYNOT along with special guests Mike Portnoy (Dream Theater, etc.), Frank Bello (Anthrax), Jason Bittner (Shadows Fall, Overkill, etc.), Jon Dinklage (Clockwork Angels string ensemble), Joe Bergamini (drum instructor, author, etc.), John Wesley (Porcupine Tree), and Seven Antonopoulos (Opiate for the Masses). All proceeds from the show will go to benefit Cedars Sinai Hospital, and you can send along your donation here. YYNOT has made a name for itself in recent years for being one of the premier Rush tribute bands, as well as a great prog-rock band in their own right with 3 albums of original material under their belt. Like last year's event, it will also be professionally filmed with Executive Producers Michael Mosbach and Tim Starace. You can check out some of those videos on YYNOT's YouTube channel here.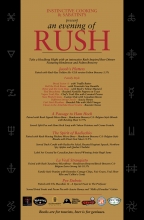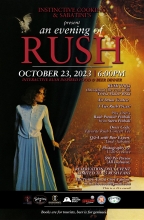 Sabatini's Bottleshop and Bar in Exeter, PA along with Instinctive Cooking will be hosting an evening of Rush event on Monday, October 23rd. The event is billed as an interactive, Rush-inspired food & beer dinner, and will feature Rush trivia, an air-drum contest, Rush beer, and more. Some of the menu items include A Passage to Ham Hock, La Veal Strangiato, Jacob's Platters and more, with the full menu available here. The event is limited to 75 Rush fans and costs $90 per person - all inclusive. To purchase tickets, send an email to Chef Tabone at instinctivecook@gmail.com, and check out the flyer for all the details.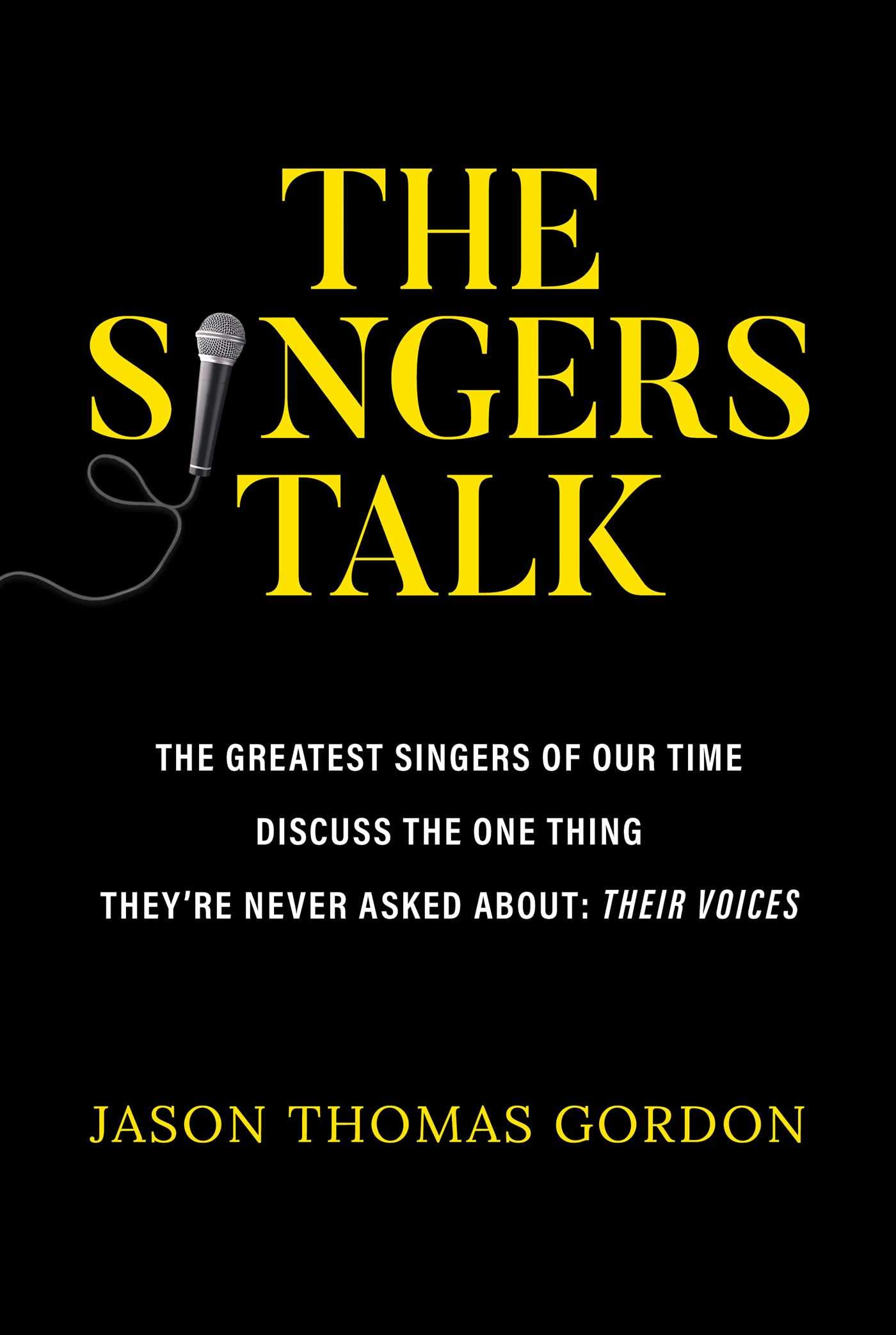 Geddy Lee is featured in a new book from author Jason Thomas Gordon titled The Singers Talk, which released on September 5th and can be ordered here. The book's subheading reads, The Greatest Singers of Our Time Discuss the One Thing They're Never Asked About: Their Voices, and it promises a "groundbreaking collection of conversations with the greatest vocalists of the modern era". In addition to Geddy Lee, others featured include Ozzy Osbourne, Radiohead's Thom Yorke, The Cure's Robert Smith, AC/DC's Brian Johnson, Karen O of Yeah Yeah Yeahs, Jane's Addiction's Perry Farrell, R.E.M.'s Michael Stipe, Spoon's Britt Daniel, AFI's Davey Havok, ex-Van Halen singer Sammy Hagar, Alabama Shakes' Brittany Howard, Joan Jett, Chris Robinson of The Black Crowes, Pink Floyd's Roger Waters, Heart's Ann Wilson and Alkaline Trio frontman and former Blink-182 singer Matt Skiba. Additionally, Rage Against the Machine's Tom Morello speaks on his late Audioslave bandmate, Chris Cornell, while Nevermind producer Butch Vig gives his insight on late Nirvana frontman Kurt Cobain. Jay Roberts posted a review of the Geddy Lee chapter to his blog at this location, and included an exerpt where Ged talks about how he tried to take care of his health and his voice on the road:
... One time I had a terrible ear infection, and I was supposed to get on a plane and fly to Montreal. The air pressure from the plane would've been excruciating, so I had to go see my throat doctor, and he basically had to puncture my ear drum in order for me to get on the plane and do the show that night. Which I did do, even though my ears were bleeding through the whole show. The procedure itself was one of the most painful things I've ever experienced in my life. When he did it, I just screamed from the actual pain." ... "Yeah, I'm prone to nose bleeds. I remember a show where I had a nose bleed in the middle of the show. It's really gross but you have to swallow the blood as you're playing. Then, in between songs, you're trying to stop the bleeding and you're spitting out blood. That just continued through the whole night." ...
The latest edition of Classic Rock magazine (issue #319) includes a feature on Rush label-mates Max Webster where they profile the band's rise to prominence on the Canadian music scene of the '70s, including their collaboration with Rush on the track Battle Scar (thanks RushFanForever):
... Max Webster soon undertook their first North American support tour with Rush. They travelled across Canada then down into the US. "The press was awful to them", says Mitchell. "One guy wrote that Geddy [Lee] sounded like a cat being chased out the door with a blow-torch up its ass, which was just brutal. Incidents like that influenced our song On The Road [from 1977's High Class In Borrowed Shoes], where the lyric goes: 7 don't need your assistance, to review the show.' "Rush taught us that you should make your own decisions and not listen to record company bullshit. They were like: 'This is our music, and these are our lives.' The other thing I remember is that when we reached the US, the intensity of both bands' playing was off the scale, cos we had something to prove. Canada was like the warm-up - you had hockey players skating around at sound-check and stuff [laughs]. But when we got to the Paramount Theater in Seattle - boom!" ... On July 28, 1980, during a huge thunderstorm, Geddy Lee, Alex Lifeson and Neil Peart joined Max Webster at Phase One to record the Mitchell/ Dubois-written epic Battle Scar. Both bands brought their best game as they responded to palpable magic in the air. Mitchell says the recording was a first take, "but then we did many more just for the fun of it. Two bands, all of our amps and two drummers." he adds. "Pye said it sounded like a Boeing 747 taking-off." It was that same day, incidentally, that Pye Dubois first asked Rush if they might be interested in using some of his words. Then titled Louis The Lawyer, the lyric he presented them with was later reworked for Tom Sawyer, the celebrated opening track on Rush's Moving Pictures. After all this time, how would Mitchell characterise the relationship between Max Webster and Rush? Some wonderful shared adventures, obviously. But could it also be claustrophobic, a little too incestuous? "No," he says plainly. "Rush were great friends and they always treated us as equals. There were so many beautiful moments, and they made touring so enjoyable. I can still picture Neil with a book and a pack of cigarettes. He was an intense dude, but so sweet once you knew him. I remember one day Alex couldn't make sound-check and I played Xanadu with Ged and Neil. "When I talk about Max Webster being Rush's `little brother band', that's a comment on how management dealt with us. I'm not saying for a moment that we got ignored, but we sensed that it wasn't really gonna happen for us internationally and sometimes felt left in the dust." ...
AllAxess.com conducted a study recently where they delved into Google's vast search data to determine the most searched-for drummers online in 2023, and Rush's Neil Peart made the cut at #8 with 439K searches.
Audio Ink Radio posted their list of the 10 Best Classic Rock Drummers this past week, and Rush's Neil Peart was included at #5:
Rush's music is progressive and epic, and only a special kind of drummer could fit the bill for their music. Neil Peart was that drummer. Peart, a longtime member of the band, is considered one of the best technical drummers of his era. With Rush, he locked in steady with bassist and vocalist Geddy Lee, and created a mesmerizing backing to Rush's music. Peart was also the primary lyricist for Rush's music. Peart passed away of brain chancer in 2020, and he is deeply missed.
Far Out magazine posted an article titled 10 classic albums that labels had no faith in earlier this week and Rush's 2112 made the cut at #8:
... With Caress of Steel becoming an overwhelming flop, the pressure was on the band to make more radio-friendly material. Rather than cower to what their label wanted, the band returned to the studio with another lavish conceptual piece, creating '2112', with a story about standing up to the powers that be; the very same powers who had pushed them around. Aside from being a not-so-subtle middle-finger to their label, the suits didn't think the album would go anywhere upon release. Instead of the traditional radio route, Rush fans were born through word of mouth, with the few who bought the record spreading the band's material like wildfire before turning it into one of the biggest non-mainstream acts in the world. Rush may have had a handful of singles later on in their career, but the initial success of 2112 is what earned them the distinction of the world's most popular cult act.
American Songwriter published an article on 4 Songs That Were Inspired by the Classic Story 'Lord of the Rings' this past week, and Rush's Rivendell is featured:
Released on the 1975 album, Fly By Night, by the Canadian-born rock band Rush, "Rivendell" is a reference to another place in The Lord of the Rings lore. Rivendell, a lush peaceful valley, is lived in by the Elves in the fictional area of Middle Earth. The band's Geddy Lee was a particularly big fan of the books, evening appearing in the 2005 documentary Ringers: Lord of the Fans.
Far Out magazine posted their list of 10 musicians who are impossible to imitate this past week, and Rush made the cut at #5:
... Starting as a blues-based band in the mould of Led Zeppelin, the band took a quantum leap once Neil Peart joined the band, crafting epic songs that could sprawl out over ten minutes at a time while keeping the listener engaged. With Peart writing the lyrics, fans also got an intelligent look at what modern life was like, either talking about the pleasures of the airwaves on 'The Spirit of Radio' or how one relates to their fellow man on 'Limelight'. Outside of the massive thought experiments going on lyrically, the band were never afraid to switch up their style, going into synthesized sounds on Grace Under Pressure, fusion on Hold Your Fire and finally back to old school rock and roll on later projects like Snakes and Arrows. Plenty of bands have tried experimenting with their style and failed miserably, but there was never any style that didn't suit Rush.
Congrats to the Rushfans YouTube channel, which celebrates its 200th Rush Roundtable episode today. The panel marked the milestone with a special discussion where each member describes the impact that Rush has had on their own personal lives. Congrats on episode 200!
That's all for this week. Have a great weekend!!