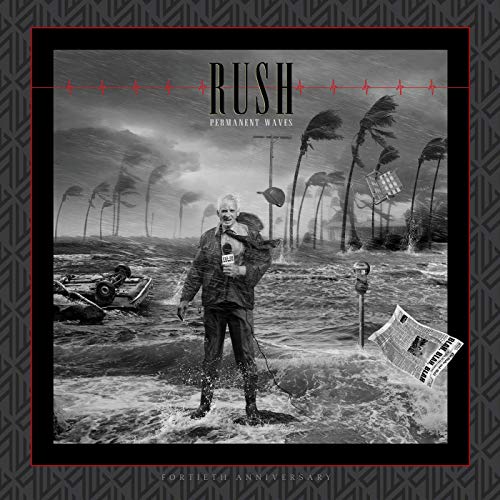 Last Friday was the official release of Rush's new box set celebrating the 40th anniversary of the 1980 release of Permanent Waves. The set is now available as a 2 CD or 3 LP set, or as a Super Deluxe Edition containing both the CDs and LPs along with some bonus goodies. It's also currently available on all the major streaming platforms. Here are the details regarding the Super Deluxe version from Rush.com:
The Super Deluxe Edition includes two CDs and three high-quality 180-gram black vinyl LPs. The set encompasses the Abbey Road Mastering Studios 2015 remastered edition of the album for the first time on CD, along with previously unreleased and newly restored bonus content newly mixed from the original analog live multi-tracks by the band's original producer, Terry Brown. The unreleased bonus live tracks come from three stops on the Permanent Waves World Tour 1980: (1) Manchester Apollo in Manchester, England; (2) Hammersmith Odeon in London, England; and (3) Kiel Auditorium in St. Louis, Missouri. The Super Deluxe Edition of Permanent Waves-40th Anniversary will also include several exclusive items, including a 40-page hardcover book with unreleased photos, reimagined artwork by original album designer Hugh Syme, and an extensive & exclusive 12,000-word essay; a replica of the Permanent Waves 1980 official tour program; The Words & Pictures Volume II, a replica of the band's rare 1980 UK-only tour program; a 24×36-inch two-sided wall poster of the original album cover model photo shoot and photos of the band recording at Le Studio; three replica bandmember 1980 tour backstage laminates; three Neil Peart-handwritten lyric sheets for "The Spirit Of Radio," "Entre Nous," and "Natural Science"; and a 20-page 5×7-inch notepad emblazoned with Le Studio letterhead. ...
Alan Cross included the set in his list of weekly music picks, and also posted an article profiling 10 songs about real-life radio stations and DJs, with The Spirit of Radio topping the list at #1 (thanks RushFanForever):
In January 1980, I brought my friends over to listen to Permanent Waves, the new album from Rush. As it played, I read through the liner notes of the song that appeared on side one, track one. At the bottom was a note: inspired by The Spirit of Radio in Toronto, alive and well (so far). "My favourite band wrote a song about a radio station?" I thought. "Cool!" At that point in my high school years, I'd already been thinking about radio as a career. Never did I imagine that I'd end up working at that same station: CFNY-FM, now 102.1 the Edge. At the time, CFNY was running out of a little yellow house in Brampton, using a woefully underpowered transmitter. Yet the station had achieved a cult following because of its eclectic playlist and its slogan, "The Spirit of Radio." Rush took note, asked permission to use that slogan as a song title, and the rest is history. The full story will be told later this month in the new box set reissue of Permanent Waves.
Reviews from Forbes magazine and Prog magazine were also posted this past week. Last week the band posted a 15-second video trailer teasing a June 5th music video release for The Spirit of Radio, although the video has since been taken down. So it's unclear whether this is still happening at some point today or whether they scrapped the idea. The Permanent Waves 40th anniversary box set is now available in stores and online retailers, including via Amazon here: Super Deluxe Edition, 2CD and 3LP.
Alex Lifeson was a guest on WFAN's Talkin' Golf with Ann Liguori radio show this past Sunday morning. Alex talks with Ann about his passion for golf, sharing stories about playing golf while on the road with Rush, the parallels between music and golfing, and touching on a few other subjects including Rush's longevity, his friendship with his 2 bandmates, and the passing of Neil Peart:
... It's been very difficult. After Neil passed in January I've played very little guitar. I don't feel inspired and motivated. It was the same thing when [Neil's] daughter died in a car accident in 1997. I didn't really play for about a year. I just don't feel it in my heart right now. Every time I pick up a guitar I just aimlessly kind of mess around with it and put it down. Normally I would pick up a guitar and I would play for a couple of hours without even being aware that I'm spending that much time. So I know it will come back. ... I don't know if the motivation is there for [Geddy and I] to do anything right now. We're certainly proud of our track record and we still love music. But it's different now ...
The entire interview is available for listening online below or at this location. Alex comes in at around the 31:45 mark of the show with the interview lasting about 20 minutes:
This past Wednesday the St. Catharines city council unanimously voted to officially name the pavilion at Port Dalhousie's Lakeside Park the Neil Peart Pavilion to honor the late Neil Peart, who grew up in the city and worked at the park's former midway. From the St. Catharines Standard:
... "The public voting on naming is obviously fairly conclusive," said Port Dalhousie Coun. Bruce Williamson. "Neil Peart's been one of our most famous local individuals and a lot of his songs have local roots, including the namesake park." ... On Jan. 27, council asked staff to begin the process of naming the pavilion - which had no name previously - and to consider Neil Peart as a potential name. The $1.8-million pavilion was constructed in Lakeside Park in 2017, replacing an older structure. Residents were asked to submit their ideas for pavilion names in February. City staff said a significant number of the submissions received over two weeks included Peart or Rush in the name. The submissions were reviewed by city staff and narrowed down to two finalists in April - Neil Peart Pavilion and Lakeside Park Pavilion. Residents were then asked to vote for their favourite. Of 746 votes, 606 people were in favour of Neil Peart Pavilion and 140 voted for Lakeside Park Pavilion. In its report to council Wednesday, staff quoted from Peart's song "Lakeside Park." "Staff recommend that the Neil Peart Pavilion is a fitting name to complement the history of Lakeside Park's 'willows in the breeze; Lakeside Park's so many memories with laughing rides, midway lights and shining stars on summer nights.'" Council voted to add "at Lakeside Park" to the name Neil Peart Pavilion to identify the setting because it is the name of his famous song. Mayor Walter Sendzik said the building will say Neil Peart Pavilion but the way it is marketed for tourism or shared in the community will be as the Neil Peart Pavilion at Lakeside Park. Peart's name was on a St. Catharines Heritage Advisory Committee list of significant local individuals whose contributions to the city are worthy of formal recognition. The list has 62 names of living and deceased residents from wide-ranging backgrounds who could be honoured in future projects. City staff will work with the Peart family and the city's heritage committee on interpretive signage at the pavilion to reflect the memory of Peart's career. A Neil Peart commemorative task force was also struck by the city in April to look at other ideas for honouring Peart with a statue or other memorial.
Jason Hanley is the Vice President of Education and Visitor Engagement at the Rock & Roll Hall of Fame in Cleveland and also happens to be a good friend of mine (and a fellow Rush fan). Jason was a guest on the latest episode of the Hall Watchers podcast to talk about a number of subjects related to the Rock Hall, including Rush. The interviewers bring up Rush's 2013 induction, which they attended, at around the 16:30 mark, kicking off a discussion about Rush where Hanley name-drops rushisaband.com (at around the 24:30 mark) and discusses attending the band's R40 Live tour in Columbus with yours truly, last year's Rush Fan Day at the Rock Hall, Neil Peart's death and more. You can listen to the podcast online at this location.
Alex Lifeson gets a mention in a recent Guitarist magazine article that looks at 16 of the best guitar chords for clean tones:
F#11 - Rush guitarist Alex Lifeson is probably responsible for introducing quite a few heavy-rock guitarists to the world of interesting chords, with his extensive use of chiming chorus-laden suspensions. Here's a nice easy way to play F#11. Turn up the chorus depth control!
Looper.com posted an article this past week profiling the best episode of The Trailer Park Boys ever, according to IMDb, which happens to be the Season 3 episode which included a guest appearance from Rush's Alex Lifeson:
... The fifth episode of season 3, "Closer To The Heart," is the best-rated episode in the entire series per IMDB. It's earned a stellar 9.3 rating from the fan-voted database, indicating near-universal acclaim. Its place in the canon makes an easy sort of sense: Not only is it one of the most elaborate and madcap plots of the entire series, but it also just might be the single most Canadian piece of television ever filmed.

The episode revolves around a Rush concert in Halifax. The denizens of the trailer park hatch various schemes to either make money at the concert, scam each other, or sneak into the show without paying. Bubbles proves to be the biggest fan of the Rock and Roll Hall of Famers, and other characters exploit this genuine desire to see Rush to their own ends.

After several unsuccessful attempts to score tickets to the show, Ricky kidnaps Rush guitarist Alex Lifeson (playing himself) after pretending to be a contest-winning guitar tech. The other members of the park manage to sneak into the show through the sewer system and are tossed from the venue several times. Ultimately, Julian steps in and fulfills his role as the clear head of the trailer park, convincing Lifeson to let Bubbles be his guitar tech. The guitarist gives Bubbles a ride back to the park while they talk about playing guitar, and events culminate in a jam session to the Rush song from which the episode takes its name. ...
Far Out Magazine posted an article this past week where they revisit Rush's epic concert at the Capitol Theatre in 1976, specifically focusing on their performance of In The Mood:
... 'In The Mood'... was a staple of the band's live set from the moment of its inception and all the way through to 1992 when it was permanently dropped. The song, interestingly, was written by frontman Geddy Lee who preferred to leave the songwriting to Peart upon his arrival. ... The song really came into its own during live performances and it's a shame that the band stopped playing it in 1992. However, it was a highlight from their beautiful short but sweet set in the winter of '76 in New Jersey. It's a show that over 40 years later, frontman Geddy Lee still remembers vividly despite playing live on an infinite number of occasions since. Lee disclosed to Rolling Stone: "Oh, wow. I remember that gig. Capitol Theatre. Obviously, this was a really good time for us. We have staved off our demise. In late 1975 early 1976, we definitely thought we were going down the drain. We honestly thought this was going to be our last album. When it came out, it was mostly word-of-mouth. It wasn't getting much airplay, obviously. But you could tell there was a buzz amongst fans when we played it. We were feeling very optimistic." ...
That's all for this week. Have a great weekend everyone!!