UPDATE - 3/15@1:28PM: Note: a few excerpts from the Alex Lifeson interview in this issue are now online, including this one:
Asked if he has since come to terms with Rush being over, Alex said: ďYes, I think so. I donít want to be in a band and tour any more. I donít feel the need to carry on with what I did for almost half a century. Iím fine with it now. And Iím as busy as I would ever want to be.Ē
----- snip -----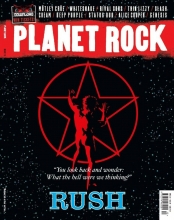 The March 2019 issue (issue #13) of the UK's Planet Rock magazine includes a Rush cover feature and new interview with Alex Lifeson (thanks Joe P):
We welcome the world's biggest cult band, prog rock royalty RUSH to the cover of issue 13 of Planet Rock Magazine, with a rare and exclusive interview with guitarist Alex Lifeson, and an in-depth look at the making of the band's biggest album, Moving Pictures.
You can get more details and order a copy at this link.