UPDATE - 11/17@10:58AM: Here's a review from Consequence of Sound.
UPDATE - 11/16@1:10PM: Here's a 4.5-star review of the Hemispheres reissue from Rolling Stone.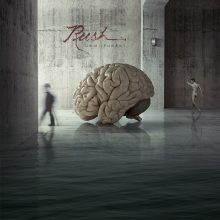 Rush's new Hemispheres 40th anniversary box set officially releases today and is available as a 2 CD or 3 LP set along with a Super Deluxe edition that includes both the 2 CDs and 3 LPs along with a bonus Blu-ray disc. The set uses the Abbey Road Studios 2015 remastered edition of the album, along with a newly restored bonus recording of the band's June 1979 Pinkpop Festival performance in the Netherlands (with the 2112 performance replaced with one from a Tucson show in November 1978). The Super Deluxe edition also includes a 5.1 Blu-ray mix of the album (from Rush engineer Rich Chycki) and 4 bonus videos. The Super Deluxe edition also includes several exclusive items, including a 40-page hardcover book with unreleased photos and new artwork by original album designer Hugh Syme. The Rush Backstage Club is offering various merchandise bundles which you can check out here. Ole's Andy Curran spoke at length about the box set in a recent Music Life Magazine interview, and Geddy Lee recently sat down with Rolling Stone magazine to discuss the making of the album and its milestone anniversary, along with some interesting stories regarding the 1979 Pinkpop Festival performance that's included in the box set, such as this one:
... I don't know where they dug up all that material. I'd totally forgotten about any of that stuff being recorded. But I do remember the festival quite well for a number of reasons. This was one of our first and more expansive European tours, and I think something like four or five days before this show, Alex was involved in some sort of bedroom accident, and he hurt his finger. He hurt it so severely that he had this major blood blister under one of his nails and had to go have it treated, and he couldn't put any pressure on his guitar neck for a few days, so we had to cancel a couple of shows in Germany. ... No one really knows what happened. He went into his bedroom with his wife one night, and he came out the next day with a fucked-up finger. ... [Laughs] Pinkpop was the first gig we'd done since he hurt himself, so the gig is very fresh in my mind. There were three stages. In fact, we played on the same stage as the Police, and that was just when they'd had a big hit with "Roxanne." They were the darlings of the festival. Peter Tosh was on that show. It was kind of a cool event, and the Dutch are great rock fans. We didn't do many festivals like that. ...
You can order the box set now via Amazon (2 CD, 3 LP, Super Deluxe edition), and also check out this unboxing video.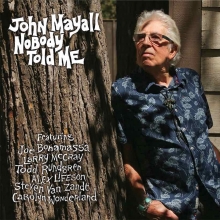 Sports Innerview host Ann Liguori announced via Twitter that she'd have Alex Lifeson on as a guest on her show tomorrow morning from 9-10AM on WPPB 88.3 FM. Lifeson will likely discuss the above-mentioned Hemispheres box set, along with his various charitable endeavors and side projects. Alex just recently performed at the Medlock-Krieger Golf Classic All-star Concert to benefit St. Jude Children's Research Hospital, and will perform at the 14th annual Andy Kim Christmas Concert next month in support of CAMH Gifts Of Light. The event will take place December 5th at the Queen Elizabeth Theatre on the Exhibition Grounds in Toronto, and be hosted by Russell Peters. It will also include Broken Social Scene, Billy Talent, Ron Sexsmith, Tom Cochrane, Hayden, Kim Mitchell, Mary Margaret O'Hara, Bif Naked, Theo Tams and Peter and Leah of July Talk. Tickets are now available and can be purchased via Ticketmaster. In addition to his charity work, Alex Lifeson is keeping busy juggling multiple musical side projects, including a mysterious project with multi-instrumentalist Marco Minnemann, and some session work with legendary blues guitarist John Mayall, who announced this past week that his new album Nobody Told Me will release on February 22nd via Forty Below Records. The album will feature guest musicians Todd Rundgren, Joe Bonamassa, Larry McCray, Carolyn Wonderland, Steven Van Zandt and Rush's Alex Lifeson. Earlier this year Alex Lifeson mentioned in an interview with Guitar Player magazine that he'd done some session work with Mayall, but didn't give any details. Geddy Lee was then interviewed for a Classic Rock magazine article/interview that released online last week, and that article also mentions Lifeson's collaboration with Mayall, revealing that Alex played on a studio recording of Evil And Here To Stay (a 1992 Jeff Healey song).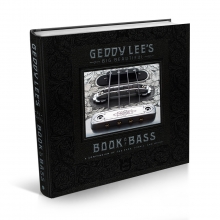 Speaking of Geddy Lee, Dirk will be releasing his Big Beautiful Book of Bass next month, and has been posting several excerpts to his official Instagram page. There's an excerpt from an interview with John Paul Jones from the book here, an excerpt from chapter one on the Fender bass here, and - most recently - this snippet from the Höfner chapter. Geddy spoke at length about the book and his writing process in this recent Classic Rock magazine interview. Geddy Lee's Big Beautiful Book of Bass is slated for release on December 18th and you can pre-order it at this location.


The folks at FANTOONS will have their pop-up shop set up at DesignerCon in Anaheim this weekend (booth 1706), and they'll have a bunch of brand new official Rush merch available. Among the new offerings are several variants of their Rush LE Blueprint series, two NEW Rush Holiday card designs, and a NEW 504-piece Fly By Night jigsaw puzzle. Be sure to stop by booth 1706 at DesignerCon this weekend, or shop for all these new items along with all the regular offerings online at the FANTOONS Etsy store.
The Philadelphia Enquirer posted a story this past week about how the creepy but lovable Philadelphia Flyers hockey team mascot Gritty received several write-in votes across the country this past Election Day. The story makes mention of Geddy Lee receiving a write-in vote for Senate (thanks Kelly D):
... Eagles Super Bowl MVP Nick Foles also received one write-in nomination to become a congressman for New Jersey's First District, which we think is just so (Philly) special. Surprisingly, neither Gritty nor Foles received write-in nominations to become a U.S. senator, though someone in a Rush to cast their vote wrote in Geddy Lee. ...
Louder posted their list of the best music documentaries on Netflix UK this past week and Rush's 2010 documentary Beyond the Lighted Stage made the cut (thanks RushFanForever):
The Canadian team behind Metal - A Headbanger's Journey and Flight 666 cast their eye over the career of legendary countrymen Rush. There's a ton of great live footage as well as interviews with the band and well-known fans like Zakk Wylde, Mike Portnoy and Jack Black extolling the prog powerhouses.
Here's the official Hemispheres 40th anniversary box set unboxing video:
That's all for this week. Have a great weekend and a Happy Thanksgiving to all of my US readers!!