Back in November of last year, rights management company Ole acquired Rush's record label and home for over 40 years - Anthem Entertainment Group. As part of the deal, Anthem's long-time A&R director Andy Curran joined Ole as Label Services general manager/A&R. Now over six months into the acquisition, Curran sat down with FYI Music News to talk about the status of Anthem's artist roster and what he's been busy working on. Part of what he's been doing since the acquisition is prepping long-unavailable Anthem titles for reissue digitally, on CD and on vinyl. He's also been prepping a couple of new Rush releases for release later this year:
... "I think the first year will be pretty selective in terms of what we're going to do," Curran admits. "I don't think we're going to blow our brains out and go from five or six acts to 20 acts. But the appetite to bring in and work on more projects is definitely present."

In the meantime, Curran and label services manager Tyler Tasson, who accompanied him from SRO Management - pre-ole co-owners (along with Rush members Geddy Lee, Alex Lifeson and Neil Peart) of the Anthem Music Group and Mark-Cain Publishing (which ole purchased, along with associated masters, in March 2015) - have plenty of work to keep them occupied.

Aside from prepping the 40th anniversary deluxe edition of 2112 and a documentary of Rush's R40 tour that is looking to be released in 2016's fourth quarter, Curran is pouring over the catalogue to prep long-unavailable titles for reissue, digitally, on CD and on vinyl. ...
So it sounds like the band will be releasing yet another special deluxe edition of 2112 later this year, along with the R40 Live tour documentary that we've been expecting since last year's tour ended. The band in conjunction with Fadoo Productions had documentary crews on hand throughout the R40 Live tour and at RushCon last year, talking to fans and documenting some of the shows. The band just released a special 5.1 deluxe edition of 2112 back in 2012 along with last year's special vinyl hologram edition of the album, so it's not clear what format is left to release the album in ... maybe cassette or 8-track?! Curran also feels confident that Rush will eventually be releasing new music:
... despite the trio announcing their retirement from global touring, Curran feels positive that Rush will be writing, recording and releasing more music.

"If I was a gambling man, I would say those guys are going to record some more music," Curran says. "The live component is certainly a question mark with Neil, but they're still quite young at heart. I don't see those guys sitting still for too long and we'll be working with them in the future." ...
Let's hope Curran is right! Whereas Rush isn't currently touring or recording new music, at least two of its members are certainly not sitting still. This past week Geddy Lee was spotted attending a Broadway show in New York, and Alex Lifeson took part in a panel discussion on Preserving Popular Music in Canada. Geddy took in a Tuesday evening performance of the hit Broadway musical Hamilton, and playwright Lin-Manuel Miranda posted a photo of himself and music director Alex Lacamoire with Geddy from after the show to his Twitter account here. Lacamoire also posted a photo of himself and Geddy to his Twitter account here. Suffice it to say that they were both VERY excited that Geddy was there.
As I'd mentioned above, this past Tuesday evening Alex Lifeson participated as one of the panel members for an evening of discussion on the importance of popular music to the creative life of Canada, and the need to preserve the archival record of its creators and distributors. The Preserving Popular Music in Canada panel took place at Innis Town Hall, Innis College, at the University of Toronto, and there was also a wine and cheese reception immediately following at the Thomas Fisher Rare Book Library. The discussion was moderated by Denise Donlon and also included on the panel were Martin Melhuish, Lorraine Segato, and Rob Bowman. Karen Bliss attended the panel and posted a brief report along with a couple of photos to here Facebook page here. Reader Ken M also attended and sent along this photo of Alex and Rob Bowman. The event was also live-tweeted using the hashtag #UTLRocks, where you can find a few more photos and some quotes, including a few from Alex Lifeson:
41 years of touring w/@rushtheband has created massive amounts of documents: hand-written lyrics, much more

Really important to keep record of our lives

Music tied to the place. We all remember where we were when heard it

wants everything that exists to be in @rushtheband's archive. So important to studying band. Won't censor

Paul from The Canadian Music Scene was at the event along with longtime Rush producer Terry Brown and Anthem/SRO's Pegi Cecconi. Paul posted a great write-up along with photos to the website here.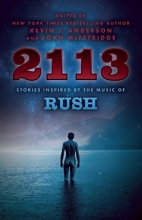 Clockwork Angels/Clockwork Lives author Kevin J. Anderson has co-edited an anthology of Rush-themed stories with John McFetridge titled 2113: Stories Inspired by the Music of Rush which was released last month. Robert Wiersema recently reviewed the book for the Toronto Star and had this to say:
... Thankfully, it doesn't [suck]. 2113 ... is a solid assemblage of short stories, leaning heavily toward science fiction and fantasy. Key to the volume's success is the fact that, while the stories may have been inspired by Rush songs, you don't need to be a Rush fan - or even know the songs - to enjoy the stories. ... The exception to the rule about not needing to be a Rush fan to enjoy the stories comes late in the book. With "2113", Anderson approaches the album 2112 in much the same way he approached the Clockwork Angels project: using fiction to infill the narrative of the songs and provide a sequel to the events they chronicled. It's one of the highlights of the collection, but be warned: you'll want to refresh your knowledge of side one of 2112, the twenty-minute, seven-part title suite before you read, and that's the top of a slippery slope. If you're not careful, someone will catch you bellowing "Tom Sawyer" and playing air guitar in the living room. Which will make you feel young again, if nothing else.
You can purchase your copy of 2113 for Kindle, Audible, or get the paperback edition here.
In the lead-up to the Toronto Raptors' Eastern Conference Finals match-up with the Cleveland Cavaliers earlier this week (the Cavs have since taken a 2-0 lead in the series), the Toronto Star posted an article listing 6 things you simply must know about Cleveland before the Raptors' Eastern finals, one of which involves Rush:
Rock and Roll Hall of Fame (or A Halping Hand) Cleveland's home of the Rock and Roll Hall of Fame, where Toronto's Rush and one-time Torontonian Neil Young are enshrined, alongside David Bowie, Bruce Springsteen, the Beatles and the Rolling Stones.

Donna Halper, former disc jockey and music director at WMMS FM/100.7 in Cleveland, is credited for giving Rush an early big break by playing their seven-minute song "Working Man" often.

She played it frequently because she was impressed by the song, not just because it gave her DJs time for bathroom breaks, she later said.

"As soon as I dropped the needle on 'Working Man,' I knew this was a perfect record for Cleveland," she once told John Soeder of The Plain Dealer in Cleveland.

"It was a working-class town . . . . I remember a city where Republic Steel would literally light the sky on fire at night with pollution," she said.
In response to a recent influx of trouble-making Canadian tourists, a group of 10 Wyoming radio stations have banded together in a tongue-in-cheek protest to boycott the playing of any Nickelback music (thanks Phil Simon):
... "Until such time as we receive an official apology from the Canadian government, along with a gallon of maple syrup and a six pack of Molson, all Nickelback songs will be banned on our radio stations," Short added. Originally, the stations considered pulling all Canadian artists from the airwaves, but reconsidered. "Boycotting Rush would be taking it too far. Yes, we blame Canada, but not Neil Peart," Short pointed out.
The dates for the 9th annual Scott Medlock-Robby Krieger Golf Invitational and All-Star Concert to benefit St. Jude Children's Research Hospital were announced last week, along with the release of this promotional video. The event - hosted by sports artist Scott Medlock and legendary Doors guitarist Robby Krieger - will take place on Monday, August 29th at the North Ranch Country Club in Westlake Village, California. The tournament itself will start at 11AM with a 19th hole post-tournament cocktail party, and a 7PM All-Star Jam featuring Krieger, Richie Sambora, Alice Cooper, Alex Lifeson, and many other musical guests. All the events are open to the public, so if you want to play in the tournament, attend the 19th hole cocktail party or attend the All-Star Jam you have to register and buy tickets via the website here. Alex Lifeson took part in the event 2 years ago back in 2014, but had to skip it last year due to Rush's R40 Live tour. You can check out full coverage from the 2014 event including photos, videos and more in this post. At the 2014 event Alex performed a number of songs including Rush's Working Man (video) and The Spirit of Radio (video) with an all-star lineup including Krieger, Sebastian Bach, Tommy Thayer and many others. He also played on I'm a Man (video) and The Doors' Hello I Love You. More videos can be seen on YouTube here.
That's it for this week. Have a great weekend!!