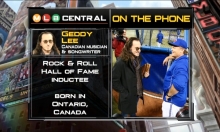 It's no secret that Geddy Lee is a huge baseball fan and can often be seen in his regular seats behind home plate at the Rogers Centre in Toronto, cheering on the Toronto Blue Jays. The Blue Jays recently clinched a playoff berth for the first time in 22 years, so it's been an exciting few weeks for the Jays. Geddy has been to several games over the past couple of weeks and was briefly interviewed during last Saturday's game against the Rays by SportsNet as seen in this YouTube clip. Geddy also called in to MLB Network yesterday for a more extensive interview where he talks about baseball, the Blue Jays, singing the Candian National Anthem at the '95 All-star game, and whether Rush is considering more touring:
... At the moment there are no plans. The three of us are kind of in a different head-space as far as wanting to tour and how much touring is left in us. It's still a question that is under discussion. But at the moment there are no plans. ...
So Geddy is hedging his bets, but I doubt we'll be seeing Rush back out on the road anytime soon. You can watch/listen to the 10-minute interview below or online at this location (thanks DukesRocks).