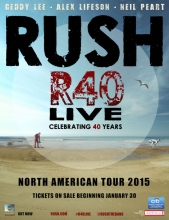 Rush's R40 Live tour is in the home stretch with only 4 dates left beginning with a Las Vegas show tomorrow night, then Phoenix, Irvine and the final show in Los Angeles next week. After kicking off the third leg of the tour with their standard A-B-C setlist rotation earlier this month, Rush treated the Vancouver crowd to their special G setlist last Friday night (just a variation of C). Since then it looks like they've reversed the sequence, playing setlist B in Seattle, A in Portland and C last night in San Jose. The 15th annual RushCon convention will take place next weekend in Los Angeles to coincide with the band's final show of the R40 Live tour. For all the details and to register for the convention, check out the RushCon website, and be sure to follow RushCon on Facebook and on Twitter for all the latest news and info. Last month Rush in partnership with Qello Concerts launched a Qello Concerts Rush channel, providing full-length Rush concerts and documentaries streamed on demand to any device. The channel also includes exclusive behind-the-scenes webisodes from the R40 Live tour, with a new webisode airing each week through the end of the tour. As of right now, there are three R40 Live backstage webisodes; the first featuring Alex Lifeson's guitar tech Scott Appleton can be seen here, and the 2nd episode featuring violinist Jonathan Dinklage can be seen here. The third webisode was posted earlier this week and features Geddy Lee showing off his extensive collection of basses that he's using on Rush's current R40 Live tour. You can watch the video exclusively on Qello at this location, and part two of the interview should be available soon. The July 2015 issue of PLSN (Projection, Lights and Staging News) magazine features an article titled The Deconstruction of Rush where Rush lighting director Howard Ungerleider breaks down Rush's R40 Live tour stage production. The article contains a number of tour spoilers (obviously) and you can read the entire thing online here.
DJ, author and host of VH1 Classic's That Metal Show Eddie Trunk attended Rush's show in Denver a few weeks ago and posted his review of the show to his website a few days later. Trunk was a guest of the band and spent some time hanging out with Geddy and Alex before the show. He attended soundcheck and also sat down with Alex Lifeson for an interview that aired on Trunk's radio show last weekend. The interview was also included in Trunk's podcast today and you can listen to it online at this location (it begins around the 31-minute mark). Alex talks 40+ years of Rush, picking the setlist, his arthritis (it's not as bad as it's been made out to be in the press), the band's future, performing with Andy Curran, and more!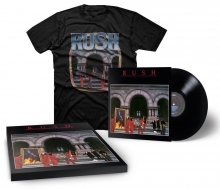 Rush's 12 Months of Rush vinyl reissue campaign continues today with the release of the band's most commercially successful album, Moving Pictures. The Moving Pictures reissue includes an LP plus vintage t-shirt combo option, where you'll get the vinyl reissue along with a vintage t-shirt as seen here. The LP plus vintage t-shirt combo is available with either a Large or Extra-Large t-shirt, and you can also just get the LP itself here. Rush is releasing all of the Mercury-era Rush albums on vinyl along with a few select titles on Blu-ray audio throughout 2015. The 12 Months of Rush will see the band releasing one or two titles a month throughout the year. They started with Fly By Night in January up through last month with the release of Permanent Waves. All titles are reissued on high-quality vinyl with a 320kbps MP4 Digital Audio download code, with Fly By Night, A Farewell to Kings and Signals also having a Blu-ray Audio release. The rest of the reissue titles will be released throughout the remainder of the year and can be ordered/pre-ordered at the links below:
AVAILABLE FOR PURCHASE

Fly By Night (01/27/15) - Vinyl | Blu-ray Audio
Caress of Steel (02/17/15) - Vinyl
2112: Hologram Edition (03/17/15) - Vinyl
All the World's a Stage (03/17/15) - Vinyl
A Farewell to Kings (04/21/15) - Vinyl | Blu-ray Audio
Hemispheres (05/19/15) - Vinyl
Permanent Waves (06/16/15) - Vinyl
Moving Pictures (07/24/15) - Vinyl | Vinyl + Large t-shirt | Vinyl + XL t-shirt

AVAILABLE FOR PRE-ORDER

Exit ... Stage Left (08/14/15) - Vinyl
Signals (08/14/15) - Vinyl | Blu-ray Audio
Grace Under Pressure (09/15/15) - Vinyl
Power Windows (10/20/15) - Vinyl
Hold Your Fire (11/17/15) - Vinyl
A Show of Hands (12/1/15) - Vinyl
Speaking of Moving Pictures, progressive metal band Symphony X was recently interviewed for Bravewords.com about their new album Underworld and mentioned Rush and their Moving Pictures album at a few points in the interview:
... "We were talking about doing different things after eight albums," he says. "The Rush album Moving Pictures came up a lot in conversation because every song on that record is great. Yeah, there's some progressive stuff on Underworld but in the end there are just great songs on the record. ... I saw one documentary with a lot of music industry guys on it. I think it was Rush's manager who was talking about the internet and sales, about putting out records that only have one hit on it. They were saying how we'll never have another Moving Pictures or another Dark Side Of The Moon, solid albums from beginning to end. Some of that was in the back of my mind when I wrote this album. I want to keep the music alive, man" ...
And Ultimate Classic Rock posted their list of the Top Albums of 1981 and Rush's Moving Pictures made the cut at #7:
Really, if the topics are "Rush" and "1981," then we should be talking about Geddy Lee's vocal performance, and impressive comedic chops, on Bob and Doug McKenzie's 'Take Off.' ("Decent singing, eh?" "Yeah, he's good!") But even the most fervent Rush-hater can't deny the power of 'Tom Sawyer' or 'Limelight.' How do I know? Well...

An official Rush 18-month, 12"x12" wall calendar was released last week by BrownTrout Publishers and is now available to order. From the product description:
Classic square format. Updated style. Our square 18-month wall calendars include 13 stunning images and even clearer grids and text. Each of these 12" x 12" calendars features an opening spread with a beautiful six-month (July-December 2015) calendar to plan the last six months of the year and rev up for 2016. Filled with an abundance of holidays, each month's grid is large enough for daily tasks and appointments.
You can check out a preview of all 13 images included with the calendar here, and order your copy at this location.
The eBay charity auction sponsored by DW Drums and Rush that was first mentioned last month kicked off last weekend and will run through July 27th. Rush is auctioning off an autographed snare drum and cymbal to raise funds for the Princess Margaret Cancer Foundation. The snare drum is a limited edition replica of Neil Peart's R40 drumkit snare and you can bid on it here. The cymbal is a 17-inch Paragon crash from Sabain autographed by all three members of the band and can be bid on at this location.

The dates and location for this year's Rush EUCon were announced earlier this month. Rush EUCon 2015 will take place at The Box, Pedley Street in Crewe, Cheshire on Friday, October 9th and Saturday October, 10th. Events will include Rush tribute band Counterparts, a guest speaker (TBA), Rush-themed games and prizes, a charity auction and more. For all the details and to purchase tickets visit Rush EUCon on Facebook and on Twitter.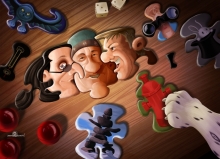 If you follow rushisaband on Facebook and/or Twitter, you've likely run across some of the amazing Rush-themed comic art from FANTOONS that I've shared over the last couple of years. FANTOONS is an on-going comic strip based on Rush and some other great bands that was created by David Calcano back in 2012. You can check out some samples of their work on Facebook and at fantoons.tv. They've released a couple of books already, but their next one is their most ambitious project to date. It's a 170-page Rush Toons book all about our favorite band Rush that was partially funded by a highly successful Kickstarter project. Calcano was recently interviewed by Comic Book and Movie Reviews to talk about FANTOONS and the Rush book. You can pre-order your copy of Rush Toons from Etsy at this location, and the book will start shipping in August.
A couple of weeks ago I had the honor of appearing on the SHOOTING FromThe LIP podcast with the one and only Donna Halper. This was the first episode in the podcast's Rush 40 for 40 Super Fan Series, where host Kevin Hale plans on talking to 40 Rush superfans. Donna and I talk about 41 years of Rush, our thoughts on what defines a superfan, the R40 Live tour and what the future may hold for Rush. You can listen to the podcast online at this location. Last week Kevin posted the 2nd episode in the series where he speaks with Rush Superfan Julie Porter from Canton, OH. Julie is an admin for the Facebook fan page Clockwork Angels (Rush Fans United) and owns and operates Julie Porter Photography. You can listen to her interview online here.
Ultimate Classic Rock posted their list of the 17 Greatest Animated Classic Rock Album Covers (??) earlier this week and this animated image of Rush's Roll the Bones album cover made the cut.
Loudwire posted their list of the Top 50 Hard Rock and Metal Drummers of All Time earlier this week and Neil Peart came in at #3 behind Keith Moon and John Bonham:
Arguably no rock drummer has enjoyed a longer run near the top echelons of drumkit royalty than Rush's Neil Peart. With his adventurous approach to diverse musical styles and all manner of percussive instrumentation (he can write some nifty lyrics too), Peart is quite often the first name mentioned whenever rock fans are asked to name a drummer.
Musician/producer Nile Rodgers was recently interviewed for Radio.com and spoke a little about the Rock and Roll Hall of Fame. At one point the interviewer asks, "But some bands that the Rock and Roll Hall have shunned, and seemed to hate, have gotten in in recent years, like KISS and Rush." And Rodgers replies by saying, "How could you hate Rush? That's ridiculous!" Well said!
Detroit-based musician Troy Gregory was recently interviewed by the Waterloo Region Record to talk about his new project The Witches and drops Geddy Lee's name when talking about producers he'd like to work with:
"I hear (Rush's) Geddy Lee is a big Who fan and he loves that '60s sound. Plus he knows 'prog' music. It would sound great and it would be interesting to work with someone like that at some point," ponders Gregory, noting "God Bless" will likely be "self-produced" as he's still awaiting word from Lee's management.
Adrien Begrand wrote an article for PopMatters' Blood and Thunder column today titled Didacts, Narpets, and Epic Rush where he reminisces about the high points of Rush's '70s-era catalog.
Drummer Brian Tichy (Whitesnake, Foreigner, Billy Idol, etc.) posted a video of himself paying tribute to Rush by playing along to Limelight on a speedbag. You can check out the video on YouTube at this location.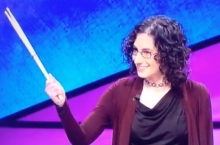 Rush fan and RIAB member Jennifer Morrow was on last Thursday night's episode of Jeopardy! and she brought along a pair of Neil Peart drumsticks with her for good luck. When host Alex Trebek introduced the contestants at the mid point of the show, she describes her good luck token and how she got them:
I'm a huge fan of the Canadian prog-rock trio Rush. And so I went to one of their concerts a while back and from the front row I held up a banner that said, May be on Jeopardy! Request token of favor to carry in thy honor. And well, apparently Neil Peart (pronounced correctly!) - the greatest drummer in the world - is a fan of the greatest show in the world.
She then pulls out a pair of of Neil Peart drumsticks, and waves them proudly high in hand. Later on in the show she got the Daily Double and bet $2112 as seen here. She went on to end up winning, and also won again on Friday. Unfortunately she lost on Monday's episode, ending her run. You can check out some video of her with the drumsticks below or on YouTube here.
That's all for this week. Only 4 shows left! Have a great weekend everybody!!