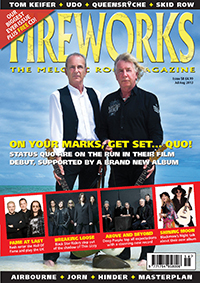 UPDATE - 6/27@10:39AM: John over at Cygnus-X1.net has transcribed the entire article and made it available online here. The feature is an interview with Alex Lifeson from just before the band's European tour kicked off. When asked how the band would celebrate their 40th anniversary next year Alex seems to confirm that they'll do an R40 tour of some kind:
We'll do a special tour and we'll look closely at some of the songs we haven't played for a long, long time. As for a new record we haven't really thought that far ahead yet.
In interviews up until this point Rush has been dancing around the question of how they'll celebrate the 40th anniversary, and not committing to anything. As we've learned from past interviews, anything Alex says has to be taken with a grain of salt, but hopefully this will turn out to be true.
----- snip -----
Rush is featured in issue #58 of Melodic Rock's Fireworks magazine. The cover tagline reads Fame at Last and the website describes the article by saying ... Rush explain what it's like to finally be inducted into the rock and Roll Hall of Fame. You can get all the details and order a pdf copy of the magazine at this location (thanks HoustonRushFan).