UPDATE - 3/9@5:57PM: Voting for DRUM! Magazine's 2012 Drummie Awards is now open. You can go vote for Neil Peart at this link.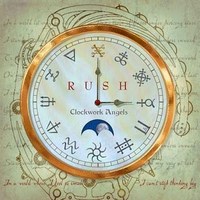 Earlier this week the US release date of Rush's long-anticipated Clockwork Angels album was revealed when Amazon began listing the album with a release date of Tuesday, May 29th and made it available for pre-order. The pre-order option has since been removed, but the listing remains sans pricing (the Best Buy listing also has the same date). The list price was indicated as $19.14 ($17.99 at Best Buy) which may indicate that the release may contain more than just an audio CD. Indeed, rumor has it that a 5.1 mix of the album will be made available which may also account for the delayed release (it was originally scheduled to release in late April). I've also heard that we should be getting some audio samples via Rush.com and/or Roadrunner very soon. On the tour front, we finally received some official confirmation of a Fall tour when Neil Peart made the following comments in this Cape Breton Post article in reaction to the band being announced as a winner of a Governor General's Performing Arts Award this past Tuesday:
... "We are especially appreciative for the presentation of this lifetime achievement award now - while we are still active (Too active, our families might say!)" said Rush drummer and lyricist Neil Peart in an emailed statement, noting that the band was putting the finishing touches on its 20th studio album, "Clockwork Angels," with a fall tour planned. "Since our performance 'lifetimes' aren't quite over yet, this high honour is not just a reward; it is an inspiration. We will continue to try to earn it." ...
We've already known this to be true since earlier this year, but this is the first confirmation from an official band source. As it stands right now, the band is still in the process of routing the tour and solidifying dates, with holds on several venues across North America. Generally speaking, I've been hearing that the band will be hitting dates in the Midwest and Easter Canada in September-October, and the Southeastern US in October-November. For more details, check out my most recent post on the subject. Regarding the Governor General's Award, the award will be presented to the band by the Governor General in a private ceremony at Rideau Hall on May 4th. Then on May 5th there will be a public Awards Gala at the National Arts Centre in Ottawa. Hopefully Rush will be attending but this hasn't been confirmed yet.
Bob Cesca of The Huffington Post reported earlier this week that Rush's legal team has issued a cease & desist letter to Rush Limbaugh, demanding that he stop using the band's music on his radio show. Limbaugh has come under fire because of his recent inflammatory comments about Georgetown law student Sandra Fluke. The story caused quite a stir in the press and was covered by everyone from MSN to TMZ, and Rolling Stone magazine examines the legal issues involved in this article. It also sparked quite a lively debate on this site and across the interwebs.
We learned earlier today that Rush has made Billboard magazine's list of Music's Top 40 Money Makers 2012 coming in at number 32 with $5,819,304 in earnings. From Billboard.biz:
#32: Rush - $5,819,304
The Canadian prog-rock power trio remains a mighty draw on the road, thanks to the band's deep catalog of anthems like "Tom Sawyer," "Closer to the Heart" and "The Spirit of Radio," and the chops of bassist/vocalist Geddy Lee, guitarist Alex Lifeson and drummer Neil Peart. The band's Time Machine tour continued through the first half of 2011, grossing $14.1 million in the United States and netting $4.8 million. Rush also made noise at retail, generating U.S. album sales of 431,000 units. Adding to the revenue mix: a concert recording titled "Time Machine: Live in Cleveland 2011" debuted and peaked at No. 54 on the Billboard 200 in November, with the live show kicking off a new deal with Roadrunner Records.

There was another Rush reference on FX's Archer during the latest episode Skin Game (Season 3, Episode 8) which aired last night. Towards the beginning of the episode, Archer is accompanying Krieger to his lab to see a surprise. When they enter the room there's a large Neil Peart style drumkit in the middle of the room. The conversation proceeds as follows:
Archer: Wow. Amazing. You can play YYZ.
Kreiger: First of all - it's YY-Zed. And second of all - no, I can't get it. It's impossible.
Then in the first scene after the opening credits:
Krieger: (to Pam) How dare you fail to recognize my greatest accomplishment to date?
Pam:: What, you finally nailed YYZ?
Krieger It's Zed! And ... no - Neil Peart (Pert) stands alone...
The drum kit even has some lettering on it in the same style as the first Rush album (which I think says Thunder Dome). You can see a screenshot here. This makes the second reference on the show this season. Just a couple of months ago there was another reference on the mid-season premiere of the show. In that episode Dr. Krieger had updated the mural on his van to a Rush Hemispheres theme; the mural depicts Krieger as both the naked man and the man-in-the-hat from the Hemispheres cover with the text Krieger: Vanispheres on it (see the screenshot here). That reference was a follow-up of sorts to yet another reference that occurred on the season finale of season 2. In that episode Krieger's van had an Exit ... Stage Left-inspired mural.
Classic Drummer Magazine celebrated its 10th anniversary last year with the launch of a Hall of Fame where they opened up voting for the inaugural class of inductees to their readers. They announce all twelve 2011 inductees in their most recent issue, but revealed four of them via their website, one of which was Neil Peart. They include a picture of him in the studio holding up his award.

Speaking of Neil Peart, the Music Empowers Foundation announced the launch of its latest online Music Matters fundraiser earlier this week. The fundraiser's goal is to raise $50,000 to further its mission of helping to bring innovative music education programs to children in underserved communities. The fundraiser will run through March 31 and includes an online auction of high-profile music items including a pair of autographed Neil Peart drumsticks which you can bid on here. You can check out the drumsticks and all the other items up for auction at the Music Empowers Foundation website here, or make a donation here.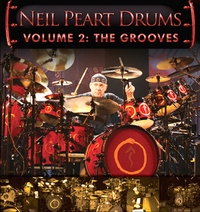 Earlier this year Sonic Reality made available a pre-release version of Neil Peart Drums Volume 2: The Grooves - the follow-up to their Neil Peart Drums Volume 1: The Kit which they
released a couple years back. The Volume 2: The Grooves release includes 500 groove patterns from Neil Peart for use on your own songs. You can check out all the details and purchase the pre-release version at the esoundz.com website. Sonic Reality's Dave Kerzner is currently working with a number of artists on a prog-rock project called Sonic Elements which utilizes the drum samples from Neil Peart Drums Volume 1 to create cover versions of several Rush tracks and tracks from other prog-rock artists. Kerzner recently posted the following update to the project's Facebook page (thanks Eric at Power Windows):
Right now I'm working on an extra Neil Peart kit from the original session that was never released. This will be part of a stereo kit library for Reason, SampleTank, Battery and some other formats we're going to be supporting. Sounds great! ...
So they may have some new Neil Peart stuff for us soon.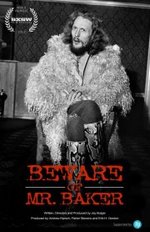 We learned last week that Neil Peart is one of several drummers featured in Jay Bulger's documentary on legendary drummer Ginger Baker, Beware of Mr. Baker. The documentary will be featured at the SXSW film festival in Austin this month. The Hollywood Reporter recently posted a 3-minute preview clip in which Neil Peart appears a couple of times (thanks RushFanForever). You can check it out at this link with Neil making an appearance at the 1:50 and 2:15 marks. You can watch the trailer for the film at this link although Neil Peart does not appear in it.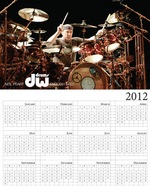 DW Drums has made available six 2012 Artist Calendars as high-resolution PDF downloads, including one featuring Neil Peart. You can check them all out and download them here (thanks rosmakloma).
Rush Front of House Engineer Brad Madix was interviewed for the Adam Hall blog a few weeks ago to talk about Palmer Musical Instruments products and mentions his work with Rush (thanks Keith M):
... First of all, the Palmers just sound really natural. Like the sound right out of the cabinet. When rehearsing with Rush, Alex tweaks his sound around listening to his in-ear monitors. It was apparent very early on in the first set of rehearsals when I was there that we would have had huge issues with him tweaking his sound and then me moving a mic, then him re-tweaking, then me re-moving, etc. It just took that element out of the equation and allowed him to get on with getting his tone. ...
Madix also mentions that for his next gig he will be back out with Rush this April. Knowing that the tour won't actually start until the Fall, this either means that Madix likes to get a very early start, or this interview was conducted when the band still planned on touring in the summer.
The CBC Music Blog posted a story earlier this week titled Rear-view Mirror: Who reigns over Nerd Rock? (thanks RushFanForever) where they talk about Nerd Rock, featuring several artists/songs that fit that description including Rush's 2112:
Billy Corgan of Smashing Pumpkins fame argued that Rush are one of the most overlooked bands of the rock era, and labored himself trying to learn album sides from the vault of Rush albums. Many claim that 2112 was their finest hour of genius and ludicris nerdom.
Rush fans in Central Texas will be hosting a gathering tomorrow evening at 7PM in South Austin, TX. They'll be watching the Time Machine Blu-ray on a 110" screen with a THX certified dolby surround system. They may also check out the Backstage Secrets: On The Road With The Rock Band Rush DVD if time allows. Chips, dips, crackers and a hot dish or two will also be provided. If you're interested in coming just send an email to RushFansInCentralTexas AT Gmail DOT com and they'll send you the address.
Back in June of 2010 we learned that Geddy Lee had optioned the film and TV rights to Dave Bidini's 2005 book Baseballissimo. Then a few months back Variety magazine reported that development on the film was moving forward with Jay Baruchel and Jesse Chabot as co-writers. Bidini was recently interviewed for Aux.tv and gave a little update regarding how development on the film was progressing, along with a few interesting Rush-related stories. You can listen to the podcast interview at this link with the Rush bits occurring at 30:30-30:33, 44:10-46:00 and 48:35-51:10. Bidini was also recently featured for a short Q&A session with CBC Music and was asked about what albums he's looking forward to in 2012:
RUSH. I think this is going to end being their great "later" period record.
Interesting statement. Thanks to RushFanForever for the links.
Rush's La Villa Strangiato is featured in this Victoria Advocate article where they profile some of the better rock songs from the 1976-1979 period. Here's what they had to say:
Guitarist Alex Lifeson, bassist/vocalist Geddy Lee and drummer Neil Pert set a high standard for musicianship. You will have to search hard to find a stronger collection of musicians. Indeed, Pert has morphed into the very archetype of drumming greatness. "La Villa Strangiatto" is an instrumental that contains several shifts and moods. The song even contains an homage to Looney Tunes with a rendition of Raymond Scott's "Powerhouse," usually recognized as the music played in the cartoons during scenes of complex machinery and assembly lines.
Guitar World is running a poll asking readers which artist they'd most like to see inducted into the Rock and Roll Hall of Fame. Rush is in the running and needs your vote. So go vote for Rush! Thanks to John at Cygnus-X1.net for the heads up.
Gibson.com ran a story recently titled Who Are You? 12 Guitar Stars' Real Names where they profile 12 different rock stars who use stage names, including Geddy Lee and Alex Lifeson:
Aleksandar Živojinović and Gary Weinrib

Who? It's Alex Lifeson and Geddy Lee from Rush. Lifeson is second-generation Serbian/Canadian, born to Nenad and Melanija Živojinović who moved to Toronto, Canada, before young Aleksandar was born. His adopted surname is semi-literal - Živojinović means "son of life." And Rush bassist Geddy Lee was born Gary Lee Weinrib. "My mother is Polish and she has a very thick accent," Lee has explained. "When I was about 12 years old, I had a friend who, whenever he heard my mother pronounce my name, he thought she was calling me, 'Geddy.' He started calling me 'Geddy,' and eventually, all of my friends started calling me 'Geddy,' and eventually my mother started to call me 'Geddy,' for real. And eventually, I changed my name legally to 'Geddy,' so that's the story and that's my name, Geddy." For the record, Rush drummer/lyricist Neil Peart's real name is... Neil Peart. Peart's middle name is Ellwood.
The Body Electric was a Canadian animated TV movie from 1985 that featured a Rush soundtrack. The plot for the 30-minute film combines themes from several Rush songs, most notably The Body Electric and 2112. Here's the synopsis from IMDB.com:
Red Sector A was a paradise...for a man's machines. The domed city was home to the last of the human race, where they lived in comfort, served by their robotic servants. Until one day a mysterious force turns the robots against their masters, and the machines cast the people out of Red Sector A into the wastelands outside. Years later, the robots have collapsed into dust without human maintenance, leaving two young people - Woody and Andrea - to live in the city. But the city is on the verge of a exploding as the shield generator approaches meltdown. Andrea and Woody have a few hours to escape Red Sector A, but the unknown force that caused the revolution is still present, and has it's own plans for them.
The soundtrack includes portions of the following Rush songs: Red Sector A, Hemispheres, 2112, Cygnus X-1, Different Strings, Jacob's Ladder, The Fountain of Lamneth, The Body Electric, Working Man and Marathon. The film finally found it's way to YouTube late last year and you can watch it below or at this link.
That's all for this week. Have a great weekend!!