UPDATE - 12/21@2:09PM: Matt Dolloff of Boston's 100.7 WZLX included Rush at #4 in his list of The Top 5 Boston Concerts of 2012.

Happy International Rush Day everyone!! Today is the 21st day of the 12th month of the year 2012; 21/12/12 or 12/21/12 depending on what part of the world you live in. For years the occasion has become a sort of unofficial Rush holiday, but now even Rush themselves are in on the action - so I guess we can call it an official Rush holiday now! Rush scheduled the release of the 2112 Deluxe Edition earlier this week to coincide with the holiday and also posted the following to their Facebook page last week:
We've heard rumblings that some fans are championing a Fan Friday on Friday, Dec 21/12 whereby fans around the world will proudly wear their Rush shirt to work/play that day.

We just wanted to say we support that and look forward to seeing you snap photos of yourself in such a state! In fact, send them to us at rushfan@rush.com
They've indicated that they'll be posting these photos to a gallery on the official Rush Facebook page. The fact that 2012 also happens to be the 2112 pre-centennial along with Rush's recent Rock Hall induction announcement makes the occasion extra special this year. What better excuse do you need to listen to Rush all day long, watch Rush DVDs, wear Rush paraphernalia, and otherwise celebrate Rush fandom? The event has gotten picked up in the press too - USA Today, Classic Rock, Wired and others have posted articles promoting it. Also in celebration of the event, a group of Rush fans have launched a new Rush Day YouTube channel which features tribute covers of various Rush songs. You can subscribe to the Rush Day YouTube channel here. Chicago-based rock duo Local H are ringing in the Holidays and celebrating Rush Day by releasing their cover of Rush's 2112 which you can download at Localh.com and also listen in on SoundCloud. Local H will ring in the new year with two nights of shows at Chicago's Beat Kitchen.
Darren Redick of UK digital radio station Planet Rock had Geddy Lee on his show earlier today to celebrate Rush Day. They chatted about the band's recent Rock Hall induction announcement, the 2112 Deluxe Edition, the upcoming UK leg of the Clockwork Angels tour and more. He mentioned that the UK setlist will be essentially the same as on the North American leg with possibly 1 or 2 tweaks, and it sounds like they'll stick to alternating between their A and B setlists. The interview should be available at PlanetRock.com sometime later today. Alex Lifeson will also be getting in on the action this evening when Friday Night Rocks on Q104.3 in New York City will be featuring its first ever The Holiday Rush with Eddie Trunk live. Eddie will be dedicating the entire 3-hour show to Rush, including an all new interview with Alex.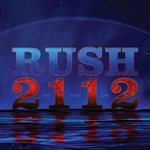 As I'd mentioned above, the 5.1 Surround Sound Deluxe Edition version of 2112 released earlier this week and is now available as a CD plus Audio DVD Deluxe Edition, a CD plus Audio Blu-ray Deluxe Edition and a CD plus Audio Blu-ray Super Deluxe Edition. All 3 versions contain a digitally remastered CD with 3 unreleased live tracks along with a DVD or Blu-ray 5.1 Surround Sound mix of the album. Also included in each version is expanded artwork, liner notes, lyrics, unreleased photos and brand new liner notes by David Fricke. The Super Deluxe version is housed in a hardbound book with a 40 page comic book by story artist Tom Hodges. The DVD/Blu-ray contains a digital version of this comic book, and an iBook version which also includes the lyrics, liner notes and photos is also available for sale separately. For all the details and technical specs, check out the Rush.com press release. There's also this short, 20-second preview video that shows a few images from the included 2112 comic book with 2112: Temples of Syrinx playing in the background, and reader rushfanben sent along these scans of the liner notes. To celebrate the release, several radio stations across North America are airing a Rush 2112 radio special this week hosted by Alan Cross where they take a retrospective look at the album. Check your local classic rock station to see if and when they'll be featuring the special.
A couple of weeks ago Rush confirmed that they planned to extend the North American tour into 2013 via this message that was posted to Rush.com:
... Clockwork Angels 2013 in Europe is on sale now. And just because we had such a good time, we are now making plans for more dates in the spring and summer of 2013 in North America - so stay tuned for more announcements. Looking forward to seeing you out on the road again soon!
But now that the Holidays are in full swing, it's very unlikely we'll hear any sort of official tour dates announcement from Rush until after the New Year. The band's September 16th show in Pittsburgh made The Pittsburgh Post-Gazette's Scott Mervis's best concerts of 2012 list coming in at #6:
The rule of thumb for old bands arriving with new albums is basically: play three or four of those songs (we'll pretend we're interested) and then get back to the hits. Kudos to Rush for loading the first set with deep cuts and boldly making the new "Clockwork Angels" a dazzling showpiece in the second. Needless to say the musicianship was sublime, and Geddy Lee can still soar to the heavens.
Billboard released its list of the 200 top-selling albums of 2012 and Rush's Clockwork Angels came in at #114 (thanks Sean). The album had debuted at #2 back in June when it was released and remained in the Billboard 200 for 20 weeks. Clockwork Angels also made a few more 2012 best of lists including The New Jersey Star-Ledger, Amazon UK (thanks Tom A) and The A.V. Club (thanks liquidmuse3) where they had it coming in at #15:
15. Rush, Clockwork Angels (18 points, three votes)
"I can't stop thinking big," sings bassist Geddy Lee on "Caravan," the opening track of Rush's Clockwork Angels. Written by drummer-lyricist Neil Peart, the sentiment is a telling one. Although written from the vantage of Clockwork's main character-a young man in a steampunk world reaching toward his destiny-the line may as well be Rush's lament as well as its rallying cry. The group's cerebral bend and uncompromising complexity has made it, in its own words, "the world's biggest cult band." Clockwork does nothing but flex every strength that makes Rush so enduring: As the hero's journey of Peart's protagonist unfolds, epic battles of celestial forces take place. But it's the internal, human struggle of philosophies-pet Peart issues like free will vs. fate, individuality vs. the common good-that drive the disc's emotional narrative. It doesn't hurt that the music is some of Rush's best in ages, a lush yet sinewy layering of prog intricacy and classic songcraft that's every inch the equal of its concepts.
Scott Mervis of the Pittsburgh Post-Gazette put Clockwork Angels at #4 on his list of the best albums of 2012:
Billy Corgan recently told me, "Imagine if 'Farewell to Kings' came out today, the moustache hipster would go ape----. They would be a critic's darling today." Obviously, there's no time machine to fix that. But Rush fanatics (and they are the only Rush fans) can be proud that the latest Rock and Roll Hall of Fame inductees will see their band enter on a high note. This late-career 66-minute epic concept album about the nature of God and existence, good and evil and other Peart-ian things is a sweeping sonic roar that would frighten most bands half their age and twice their size.
Toronto-based music site T-MAK World posted their Top 10 Albums of 2012 yesterday and Clockwork Angels came out on top:
Hometown heroes Rush keep on going strong - not only did they get inducted into the Rock and Roll Hall of Fame in 2012 they also released one of the best records of their career. Clockwork Angels is the band at its hard rocking best. The record is a concept album based on a steampunk world full of alchemy and magic. Society is ruled by the loving Watchmaker that dictates every move of his citizens. The Watchmaker has an opponent known as The Anarchist who likes to disrupt the perfect order of the world. In essence the album (and subsequent book) is based on a classic struggle of order and chaos and questions which one is better for humanity. Bassist/Vocalist Geddy Lee, guitarist Alex Lifeson, and drummer Neil Peart are widely regarded as the best in the world (or near the top of all "best of" lists) at their respective instruments but together they are so tight on this record its incredible. It's hard to pick highlight songs on this album so just listen to it all end to end (many times). There was no doubt for me what my favourite record of the year was from the first moment I heard it and stands along Moving Pictures as exclamation points in Rush's career.
New York City's Q104.3 has opened up voting for their first annual The Year That Rocked poll and Rush's Clockwork Angels is up for Classic Rock Album of the Year, and the associated tour is up for Best Live Performance. You know what to do - vote for Rush!! And Ultimate Classic Rock's 2012 Ultimate Classic Rock Awards are still underway and Rush is up for consideration in several categories including Album of the Year, Song of the Year, Tour of the Year and Best Commercial.
Neil Peart updated the news page on his website with a story titled Adventures in the Wild West last Friday night. Neil chronicles his travels between stops on the 3rd leg of the Clockwork Angels tour down the West Coast and into the Southwest and Texas. You can read the entire update at this location.
Speaking of Neil Peart, next March 1st a special Clockwork Angels: Watchmaker's Edition of the audiobook for Clockwork Angels: The Novel (narrated by Neil Peart) will be released. The package contains the unabridged audiobook along with a WORKING clocktower. From the product description:
Clockwork Angels: The Watchmaker's Edition features the unabridged audiobook edition of Clockwork Angels, a novel by bestselling science fiction author Kevin J. Anderson, based on the new concept album by the legendary rock band Rush. This compelling steampunk adventure is read by Rush drummer and lyricist Neil Peart, who first conceived the story for the band's latest release. This special edition features the complete, unabridged audiobook packaged in a unique, working upright clock tower designed by the band's album cover artist, Hugh Syme. Intricately themed and largely handmade, this is a beautiful and functional design piece that will be a must-have for Rush fans and steampunkers alike.
The special Clockwork Angels: Watchmaker's Edition is now available for pre-order through Amazon at this location.

In other Clockwork Angels: The Novel news, author Kevin J. Anderson is auctioning off two rare, signed and numbered VIP editions of the novel to raise money for one of his fans who has Brittle Bone Disease. For all the details and to place your bid, visit this location, or you can donate via PayPal at OneLittleLight.net. Kevin J. Anderson and Neil Peart's Clockwork Angels: The Novel was officially released in the first week of September and debuted at #18 on the New York Times Hardcover Fiction Best Sellers list. You can order the standard audiobook version of Clockwork Angels (narrated by Neil Peart) at this location, and the hardcover edition here.

There was a Rush reference on the Weekend Update segment of last Saturday night's episode of Saturday Night Live. Anchorman Seth Myers mentioned that Donna Summer, Rush and Public Enemy were all announced as 2013 Rock and Roll Hall of Fame inductees, showing a photo of the 3 artists. He then jokes "Who are those other two?" said the fans of any one of them. There currently isn't any video online but reader turbinefright sent along this screenshot.
Reader GeddyLeeGenes let me know about a Rush reference on this past Monday's episode of the morning show Live! With Kelly and Michael. Actor Paul Rudd (star of I Love You Man) was on the show promoting his new movie This is 40. As part of the interview, Kelly and Michael (Strahan) played a game with the actor which they called Stump The Rudd where they sang the first four lines of a song and Rudd had to guess the song title, artist and year the song was released. The third song - sung by Kelly - was Rush's Tom Sawyer. Rudd had no problem guessing the artist and name for the song but couldn't guess the year (he said 1979). He mentioned Rush's recent induction into the Rock Hall and also looked a bit upset with himself for not getting the year right.

TMZ.com ran a story on Wednesday on how boy band sensation Harry Styles of One Direction was spotted in West Hollywood getting a new tattoo with his current girlfriend Taylor Swift. Styles is proudly sporting a Rush Presto t-shirt in the accompanying photo. Whether Styles is actually a Rush fan or if this is just another sign of the impending apocalypse is not yet clear. :)
Ultimate Classic Rock picked Rush's Working Man as their featured weekend song this week. And NPR Music's Paul Horwitz wrote an article yesterday titled Loving Rush, With All My Heart And Brain where he explains his love for the band and wonders why it took so long for them to be inducted into the Rock and Roll Hall of Fame:
...Even loners want to belong, though. That's why Rush fans pushed so hard for the band to be recognized by the Hall of Fame and rejoiced when they were. If our sense of independence was fueled by Rush's "uncool" status, the band's arrival in the Hall of Fame gives us something else. It tells us there's room for the nerds and greasers, the chess champions and air-guitar kings, in the pantheon - and perhaps that there's a little bit of nerd or greaser in everyone else. ...
SModcast is a weekly podcast featuring filmmaker Kevin Smith and his long-time producing partner Scott Mosier. On the latest episode (#236) Kevin Smith talks at length about Rush spurred by a recent viewing of the Rush documentary. You can listen in to the SModcast online at this location (thanks benlacy2112).

Phoenix-based Rush tribute band Freewill will be performing a special benefit show at The Wigwam in Phoenix next Friday, December 28th. The band will be playing a variety of tracks from Rush's catalog including the entire 2112 album, and will be accompanied by an 8-piece symphony string section including Clockwork Angels String Ensemble member Adele Stein. For all the details and ticket information go here. The concert will benefit the M.U.S.I.C. Foundation of Arizona, a 501c3 non-profit organization.
It's that time of year again! Since it's the first day of Winter I thought we could all benefit from some winter advice from Geddy Lee:
That's all for this week. Have a merry Christmas, wonderful Winter Solstice and happy Rush Day everyone!!