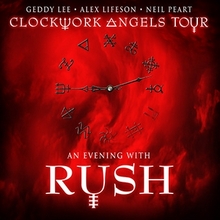 The third and final round of pre-sales for Rush's 2012 Clockwork Angels tour are just about complete, with general ticket sales kicking off today. This third round included 11 dates: Indianapolis, Columbus, Winnipeg, Saskatoon, Edmonton, Toronto, Montreal, Cleveland, Charlotte, Tampa and Seattle. As of this post VIP ticket packages still remain for Pittsburgh, Indianapolis, Detroit, Columbus, Minneapolis, Winnipeg, Saskatoon, Edmonton, Montreal, Boston, Cleveland, Charlotte, Atlanta and Phoenix. Live Nation, radio and venue pre-sales for most of the Canadian dates will run today from 10AM to 10PM. For more information including passwords (where available), just check out the tour page, and for more details on how all the pre-sales work check out my ticket sales and pre-sales guide. General ticket sales for Indianapolis, Columbus and Tampa began earlier this morning at 10AM with all 5 Canadian dates, Cleveland and Charlotte going on sale tomorrow at 10AM, and Seattle on Monday at 10AM.
Geddy Lee was interviewed yesterday by Darren Redick of the UK's Planet Rock radio and had a little news to report regarding the tour. When asked about the possibility of a UK/European tour Geddy said:
Yes, we are coming over. I guess I'm probably not supposed to announce it yet. But we're working on the details now. I hope to be here in the Spring of 2013.
Darren also asked Geddy how they'd be changing up the stage show and visuals given that much of the steampunk theme of the Time Machine tour will likely carry over to the Clockwork Angels tour:
We're kind of redesigning a few aspects of the set. It will be a different show but it'll still have the same kind of steampunk aesthetic vibe. ... with new videos
And when asked about whether they'd be recording a live DVD for this tour Geddy remarks:
We haven't discussed it yet but I imagine so. It's become kind of a regular thing for us. When we put a new tour together, because of the fact that they are all so different from each other visually, it's nice to have that historical record. So - yes - we probably will film it at some point.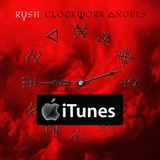 The first reviews of the Clockwork Angels album came out earlier this week. On Monday Joe Bosso of MusicRadar.com posted his colorful, track-by-track review of the album at this link. Next up was Dominic Hemy of The Digital Fix who had this to say about the title track:
Now we're getting stuck into new territory! What immediately jumps out at you about the title track is how it harks back to the Rush of the late 70s. The various sections that make up this mini masterpiece feel slightly indulgent yet sit together so comfortably. The feel too, is very evocative of that era - lurking somewhere between 'Xanadu' and 'The Trees', albeit far more powerful than they have ever been.
And there was also this track-by-track review from Riff Magazine, and this short review from PlanetMosh.com. The most interesting thing about that last one is that it includes The Pedlar 1 and The Pedlar 2 in the track list, making a total of 14. Although these may just be lyrical connectors and not actual tracks. It's a bit confusing because the press track listings don't include these apparently but the back of the album does.
In addition to their review, MusicRadar.com also posted an interview that Bosso conducted with Rush producer Nick Raskulinecz which you can check out here. Nick first talks about how the recording differed from that of Snakes & Arrows:
... "This one we started from scratch. They didn't talk about doing a concept album - that came later. But when I sat down with them three years ago, I said, 'I want to hear unbridled Rush. I don't want to focus on three-and-a-half minute songs; I don't want verse, chorus, verse, chorus - none of that. I want you guys to play, no holds barred. Let's just make music.' And that's what we did." ...
He then goes on to discuss how songs were constructed and tracked, and how Neil's steampunk concept came to life:
... "That really started to come to light in Toronto. Two weeks or so into it, as Geddy and Alex were writing more music, we all kind of looked at one another and said, 'Hey, this is really turning into something. It's tying together.' Then one day, Neil walked in the room and said, 'It's done. I finished it.'

"For the next 20 minutes, Neil talked about this vision he had for the concept of the record, and it was one of those moments I'll never forget. Listening to him, watching him speak - it was amazing! I wish we were filming him so we could put it on YouTube. And right there, the whole record just clicked. Once Geddy and Al heard where Neil was going, they churned out some amazing music. I think Headlong Flight came the next day." ...
You can read the entire interview at this link.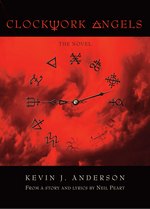 Back in February we learned that sci-fi author and friend of Neil Peart Kevin J. Anderson would be writing a novelization of Rush's upcoming Clockwork Angels album which would be released in the Fall by ECW Press. Yesterday Anderson posted the book's cover art to his blog which you can check out here. The artwork simply uses the Clockwork Angels album cover art over a black background and cites Anderson as the author with a subheading which reads From a story and lyrics by Neil Peart. The book is slated for release on September 1st, 2012 under the title Clockwork Angels: The Novel and will be 264 pages long. It can be pre-ordered at this location.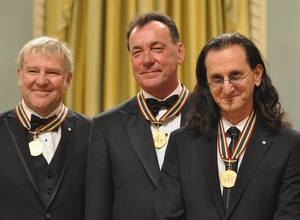 This past Friday evening the Governor General of Canada - David Johnston - presented the Governor General's Performing Arts Award (GGPAA) for Lifetime Artistic Achievement to Rush during a ceremony at Rideau Hall in Ottawa. The following evening there was a public Gala at the National Arts Centre in Ottawa in honor of the award recipients where all 3 members of the band were in attendance. The band was introduced by South Park creator Matt Stone who had the following to say:
... "I remember buying their cassettes, tearing home on my BMX, running inside and throwing them into my Walkman, and sitting down to my drum set and just destroying my mom's afternoon," Stone recalled. "Rush was definitely the first band I ever loved." ...
They then showed a short 6.5-minute film tribute to Rush produced by the National Film Board of Candaa called Inner Rush which you can check out online at this link. From the website synopsis:
This short film pays tribute to Rush, one of rock's most successful and popular bands of all-time. 'Humility' and 'rock and roll' don't usually appear together, yet the members of Rush (Geddy Lee, Neil Peart, and Alex Lifeson), reflect here on a career of making music built on craft, heart and a uncompromised commitment to push the limits - to always 'get better'. ...
Rush did not perform at the Gala, but a children's choir did a short version of The Spirit of Radio which was then followed by the full National Arts Centre Orchestra doing a version of Tom Sawyer which you can check out in this camera phone video. There was also one very cool additional surprise. The final honoree was Des McAnnuf - a director who had put together a musical theatre version of Tommy back in 1993. The closing number was he and his house band doing a medley from Tommy. They began with I'm Free and as they finished that up they introduced a special guest - The Who's Pete Townshend - who joined in on Pinball Wizard followed by We're Not Gonna Take It. Given that The Who were such a big influence on Rush, this was very appropriate. The band did get to meet Townshend and had their picture taken with him which you can check out here. The award ceremony and Gala were covered extensively in the Canadian press and several photo galleries are available online. Paul from The Canadian Music Scene posted a batch of photos from the Red Carpet before the Gala at this location. There's also this photo gallery from the Toronto Star, this one from The Calgary Sun, another from the Ottawa Citizen which includes one photo of Geddy with his mother, and this extensive photo gallery from photographer George Pimentel which includes the shot of Rush with Pete Townshend that I'd mentioned above. For complete coverage of the event, check out this post.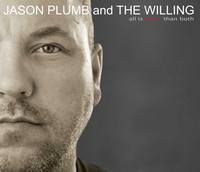 The debut album from Canadian singer-songwriter Jason Plumb's solo project Jason Plumb and The Willing released back in March. The album is titled All is More Than Both and features a guest appearance from Alex Lifeson on the track LOSIN' which you can listen to at this link. Plumb was recently interviewed for the Calgary Herald (thanks Eric at Power Windows) and explains how Lifeson became involved in the project:
"The Alex Lifeson thing, that happened by absolute fluke," he says of the Rush guitarist's work on the track Losin'. "We started going through the songs and wondering which iconic Canadian guitarist could make an appearance on the record. . . . I thought, 'Well, Alex Lifeson, that would be really amazing. If we could get (him) that would be a real coup.' And he actually just happened to walk into the control room some days later."
The album also features appearances from Ed Robertson and Steven Page of the Barenaked Ladies along with several other Canadian musicians. You can purchase the LOSIN' track with Alex Lifeson via Amazon or via iTunes, or purchase the entire All is More Than Both album (Amazon, iTunes).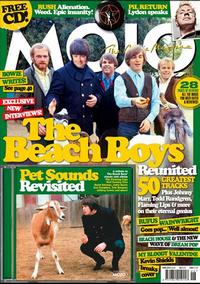 I'd mentioned a couple of weeks ago that Rush is the subject of an 8-page feature story in the June, 2012 issue of Mojo magazine. The entire article has been transcribed by John at Cygnus-X1.net and posted here. It's essentially a short biography of the band and doesn't contain any new interviews or information on the new album.
San Francisco Chronicle pop culture critic Peter Hartlaub mentions his favorite band Rush in this article profiling bay-area sports talk radio personality Marty Lurie:
I'm sure there are people out there saying "I'd love to have a job getting paid to talk about baseball," but that's a fundamental misconception. Take the hobby, pastime or celebrity that you love the most. In my case it would be the band Rush. I would consider it a joy to talk about Rush with fans for an hour. It might be fun to do an entire afternoon. But two afternoons? Twenty afternoons? Every weekend, year after year, decade after decade? With fans bringing up the same old complaints that the band overpaid for Alex Lifeson and Geddy Lee needs to be traded for another bassist? I wouldn't last a month.
Rush's YYZ makes Ultimate Classic Rock's list of the Top 10 Drum Songs (thanks Duffy) coming in at #3:
Neil Peart has been proving himself as one of the most technically advanced drummers in rock for decades now. But if he and his bandmates are trying to avoid that "Nerd" tag, maybe figuring out how to play the airport identification code for their local Toronto airport in morse code on each of their instruments, as they do on this track from 1981's 'Moving Pictures,' wasn't the right move.
Bradly Birzer recently penned an article for the National Review on progressive rock titled A Different Kind of Progressive which makes heavy reference to Rush:
... It's hard to imagine that my generation has not been significantly influenced by the libertarian lyrics of Neil Peart of Rush. I write this with absolute certainty regarding myself , and with only a little trepidation do I speak for many when making this huge claim. "From a better, vanished time ... " Peart understood.

As I watched Rush play "Tom Sawyer" on The Colbert Report a few years ago, none of the song's power or intensity seemed diminished to me. In ridiculous public-school detention in 1981, as a lonely and confused 13-year-old, I could relate to Peart's "his mind is not for rent to any god or government." While I've certainly and happily rented my mind (for what it's worth) to JPII and B16, I've never given a moment - even in charity - to the government. A year later, when Peart wrote, "Some will sell their dreams for small desires," I assured myself I would fight for integrity and human dignity. Do I give the NRO reader the mind of a 14-year-old raised in a dysfunctional family in otherwise idyllic Kansas? Yes, I do.

But, good Lord. What would I give to know that all 44-year-olds had once taken such words to heart while in junior high? ...
Reader Adam M let me know about a guy named Bob Rush who is running for Assembly in California. He has a website up at www.rush2012.com. :)
For all of you with streaming NetFlix service, Rush's 2112/Moving Pictures Classic Albums special is now available for free streaming. You can add it to your queue at this link (thanks Alec P).
Reader RushFanForever recently located a video on YouTube from 1994 depicting some behind the scenes coverage of the Roll the Bones video shoot. It shows the band making the video and includes interview snippets with the band members and the video director. You can check it out at this link.
This coming Monday, May 14th marks the 10th anniversary of the release of Rush's 2002 comeback album - Vapor Trails - which marked the end of the band's 5-year hiatus after the personal tragedies suffered by Neil Peart in the late '90s. The album was Rush's 17th studio album and peaked at #6 on the Billboard album charts but has yet to be certified Gold. Vapor Trails has been widely criticized by fans over the years for its production and sound quality. Re-mixes of 2 tracks from the album - One Little Victory and Earthshine - were included on Rush's 2009 compilation album Retrospective 3 and were generally well-received by fans. Back in February of last year Alex Lifeson and Rich Chycki both confirmed that a complete re-mix of the album was in the works, but there's been no word on the project since. It's speculated that it may have been put on hold after Rush switched record labels late last year.
Here's the video of the choir version of The Spirit of Radio along with the NAC Orchestra's rendition of Tom Sawyer from last weekend's Governor General's Performing Arts Award Gala:
That's all for this week. Only one month left until the release of Clockwork Angels! Have a wonderful weekend everybody.